Sorry, this event's been and gone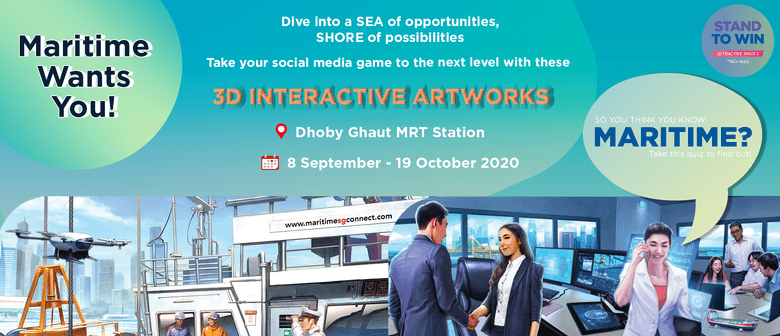 When:
Thu Oct 15 2020, 12:00am–11:00pm
Fri Oct 16 2020, 12:00am–11:00pm
Sat Oct 17 2020, 12:00am–11:00pm
Sun Oct 18 2020, 12:00am–11:00pm
Mon Oct 19 2020, 12:00am–11:00pm
Website:
Get ready to take your social media game to the next level by posting photos of yourself interacting with these artwork displays which showcase the various sectors of the maritime industry and diverse maritime job roles. Let your imagination run wild as you can even become the subject of the artwork –from Ship Captain and Marine Engineer to Data Analyst and Marine Insurance Underwriter!
Photo Contest
If you think you can strike a better pose than us, visit our installation today and snap away! The three wackiest submissions will stand a chance to win up to $50 worth of CapitaLand vouchers! Be sure to tag us on Facebook(@MaritimeSingaporeConnect)or Instagram(@MaritimeSgConnect)and hashtag #EyeSeaYou in your post.
Maritime Quiz
Be one of five lucky winners each week by participating in the "So You Think You Know Maritime"campaign quiz! Simply scan the QR code at the campaign area and answer three True / False questions correctly to stand a chance to win a maritime tote bag! This is an attraction for all ages, so if you are around the area, be sure to visit the installation!