Sorry, this event's been and gone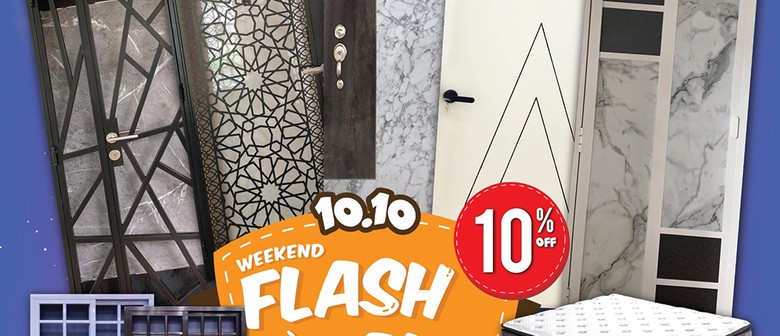 When:
Fri Oct 9 2020, 10:00am–9:00pm
Sun Oct 11 2020, 10:00am–9:00pm
Website:
For those who miss the mid-autumn deals, here's something that stays. Upsized offer on the door, gate & digital lock brands.
This is the best time to shop with 10% Offer at our 10.10 storewide sale for all products!
Your one-stop shop for all
- HDB Main Door
- HDB Main Gate / Grill
- HDB Bedroom Door
- HDB Toilet Door
- HDB Kitchen Door
- Glass Door
- Digital Door Lock
- Window / Window Grill
- 5mm Vinyle Flooring ( Korea / China )
- Sliding Door ( Wooden / Aluminium )
- Bi-Folding Door ( Wooden / Aluminium)
- Mattress & BedFrame ( Kingkoil / DreamStar)
- Line8 Power Track
- Philips Smart Lighting
- Door Hardware & Accessories
- All Wooden Door Warranty Extend To 18 Months
- All Metal Gate Come With 24 Month Warranty
- All Mattress Come With 10 Years Warranty
- All Digital Lock Come With 2 Years Warranty