Sorry, this event's been and gone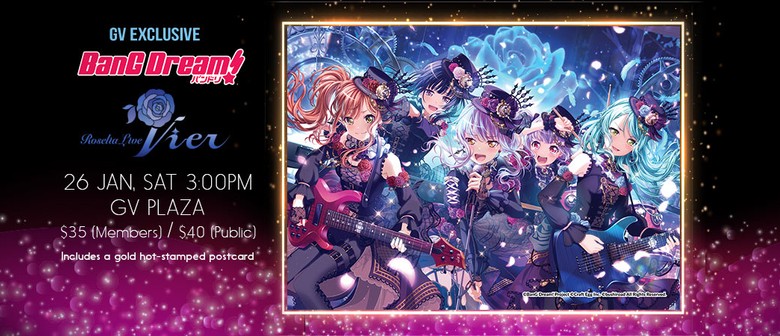 BanG Dream!'s Roselia had their voice talents performed live at the concert "Vier" at Stellar Ball in Shinagawa, Tokyo on November 7, 2018!
This was a performance following their first Fan Meeting in September, in which their keyboardist Satomi Akesaka (as Rinko Shirokane) graduated from the band. Even though there are only four members, the girls were determined to put up a good performance to turn "Vier" into an event not to be missed.
Come witness their burning determination on stage, and also the legendary surprise moment where their new keyboardist, Kanon Shizaki was unveiled for the very first time! Includes a gold hot-stamped postcard with every ticket purchase!
- Not eligible for any discounts and/or vouchers.
- Not valid with VIP and/or Complimentary Passes.
- Not valid with HSBC Movie card and other credit cards offers.
- GV reserves the right to alter the terms of this promotion without prior notice.
"BanG Dream!" is a next generation girls band project, a mixed media franchise consisting of elements such as animation, comics, original songs and live performances. Furthermore, "BanG Dream! Girls Band Party!", a mega-hit smartphone game that had its English version launched back in April last year, is centred around the world of "BanG Dream!" characters.