Sorry, this event's been and gone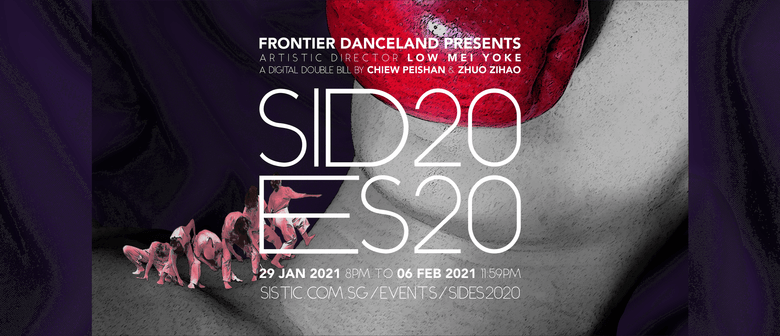 When:
Fri Jan 29 2021, 8:00pm
Sat Jan 30 2021, 12:00am
Sun Jan 31 2021, 12:00am
Mon Feb 1 2021, 12:00am
Tue Feb 2 2021, 12:00am
Wed Feb 3 2021, 12:00am
Thu Feb 4 2021, 12:00am
Fri Feb 5 2021, 12:00am
Sat Feb 6 2021, 12:00am–11:55pm
Ticket Information:
Pay-as-you-wish to watch:

$10.00

Pay-as-you-wish to watch:

$20.00

Pay-as-you-wish to watch:

$50.00

Pay-as-you-wish to watch:

$100.00

Additional fees may apply
Website:
SIDES 2020 is an introspective double bill of original creations by two Singaporean dance artists. Zhuo Zihao crafts a microscopic view set up into questioning the peculiarity of sentiments in B(_).I( _).O(_). In Apple Diary, Chiew Peishan juxtaposes personal history with absurdity in a positive confrontation of the past, where a surrealistic re-enactment of traumatic memories meditates on the role of power and ego in cultivating a wall of silence.
Curated in 2013, SIDES is Frontier Danceland's annual performance platform that brings together both international and local choreographers to explore the various tangents of contemporary dance. The diversity of cultures and influences provides stimuli for the artists' exploration of new frontiers in embodying a unique versatility that is the hallmark of Frontier Danceland.
SIDES 2020 Artist Dialogue will take place online via Zoom Meeting.
Admission is free.
Frontier Danceland is a professional contemporary dance company with almost 30 years of creating and presenting contemporary dance works that engage and challenge audiences all over the world. Led by Artistic Director and 2018 Cultural Medallion recipient Low Mei Yoke, the company has collaborated with both local and international dance-makers, including Christina Chan and Lee Mun Wai from Singapore; Noa Zuk, Ohad Fishof and Shahar Binyamini from Israel; Stephanie Lake, Gabrielle Nankivell and Luke Smiles from Australia.
Email info@frontierdanceland.com or call 6336 1526 for any enquiries!