Sorry, this event's been and gone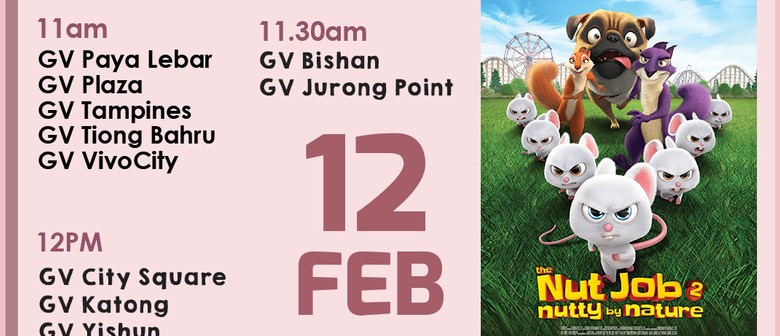 Enjoy a family friendly movie with your baby! Receive a free gift with every pair of tickets purchased, whilst stocks last! Auditorium is well lit with lower audio volume conducive for babies. Diaper tables with amenities are provided!
The Nut Job 2: Nutty by Nature (2D)
Free Admission for babies and toddlers below 90 cm + gift whilst stocks last
Note:
Screenings will be held in a conducive environment and the hall will be dim. Babies crying and running toddlers are to be expected.
Advance Sales:
Starts at 12 noon on Thursday 01 February 2018. Tickets are available for purchase at Golden Village website, iGV app (on iphones and android), GV Automated Ticketing Machines & GV Box Offices.
Synopsis (Rating: PG)
Surly Squirrel (Will Arnett) and the gang are back. We are once again in Oakton where the evil mayor has decided to bulldoze Liberty Park and build a dangerous amusement park in its place. Surly and his ragtag group of animal friends band together to save their home, defeat the mayor, and take back the park.