Sorry, this event's been and gone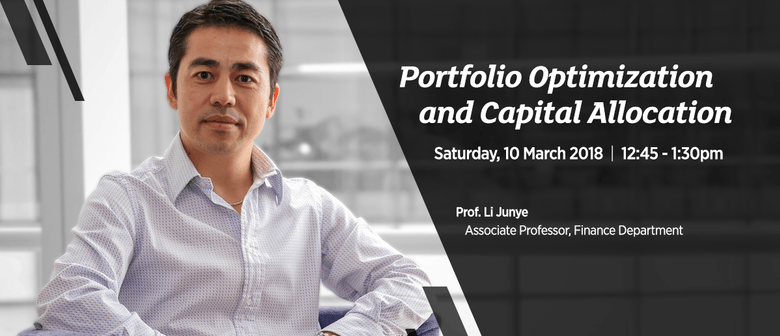 When:
Sat Mar 10 2018, 12:45pm–1:30pm
Websites:
Abstract
How do investors efficiently allocate their wealth to different types of financial assets? Capital allocation or portfolio construction can be viewed as a sequence of two steps: (1) Selecting the portfolio composition of risky assets such as stocks and long-term bonds; and (2) deciding how much to invest in this risky portfolio versus risk-free assets such as treasury bills. As investors cannot allocate their investment funds efficiently without knowing the expected returns and risk levels, identifying the risk-return trade-off becomes a fundamental issue. This master class introduces the basic ideas on capital allocation/portfolio construction that are developed by Nobel Price Laureates, Harry Markowitz and James Tobin.
Speaker Profile
Prof. Li Junye
Associate Professor, Finance Department
For more information, head over to ESSEC Open House Microsite. Please join us for our open house on 10 March 2018, Saturday(10am to 5pm) at our Asia-Pacific campus in one-north. Enjoy ESSEC goodies, food & drinks at the event!
Highlights:
- Discover our global campuses in Europe, Asia-Pacific and Africa
- Experience our campus life that is internationally diverse
- Explore your academic interest from our range of undergraduate and postgraduate programs
- Attend info sessions, master classes and talks by our experts
- Meet our faculty, alumni, students, career services and admissions teams
- Enjoy lively music, dance performances,and fun photo booth
- Chat with our students and alumni to understand how ESSEC has shaped their global ambitions and careers
- Take a campus tour
- Find out about available scholarships
Register now to receive important updates and a full application fee waiver for 2018 intake. Complimentary food and beverages at ESSEC Open House 2018.