Sorry, this event's been and gone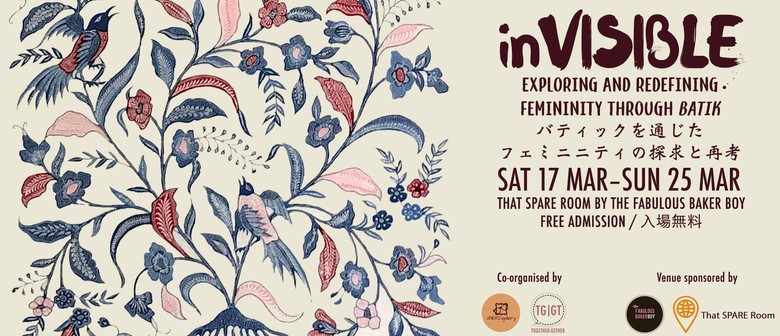 When:
Sat Mar 17 2018, 10:00am–8:00pm
Sun Mar 18 2018, 10:00am–5:00pm
Tue Mar 20 2018, 10:00am–5:00pm
Wed Mar 21 2018, 10:00am–5:00pm
Thu Mar 22 2018, 10:00am–5:00pm
Fri Mar 23 2018, 10:00am–8:00pm
Sat Mar 24 2018, 10:00am–8:00pm
Sun Mar 25 2018, 10:00am–5:00pm
Website:
aNERDgallery and Together-Gether collaborate for the first time in the exhibition "inVISIBLE: Exploring and Redefining Femininity Through Batik" happening from Sat 17 Mar to Sun 25 Mar at That Spare Room by The Fabulous Baker Boy.
The exhibition will feature at least 15 traditional and contemporary batik textiles. These include new commissioned works by contemporary textile artists Ratih Artika Dewanti and Tjiplies Pudji Lestari.
Held in conjunction with Women's History Month and International Women's Day, batik textiles on display will be used to explore contemporary femininity. Leveraging on an occasion that celebrates the various achievements of women, this exhibition will attempt to redefine femininity into qualities that resonate with the wider community who subscribe to the broad spectrum of womanhood.
Ratih and Tjiplies were invited to present their works because they, in part, embody the spirit of breaking barriers in an industry that is pioneered and dominated by their male counterparts. Theirs is an empowering story of inclusivity and representation in batik arts.