Sorry, this event's been and gone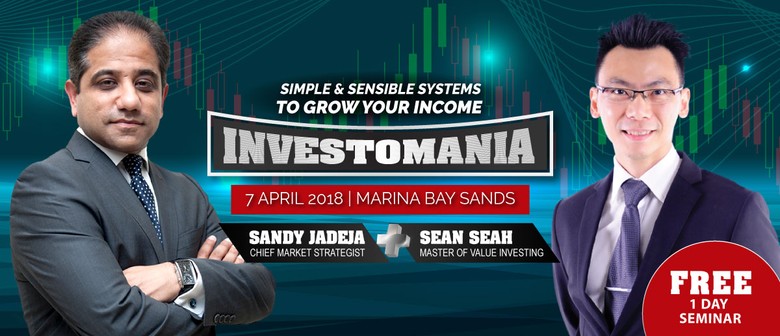 When:
Sat Apr 7 2018, 9:00am–8:00pm
Investomania is a one-day event organize by Success Resources, specially designed to provide you with the knowledge, appreciation and competitive edge to profit from investments and trading.
It aims to help you bridge both value investing (Buffett Strategies) and technical trading together in order to help you make informed decisions that would affect the rest of your life.
Lead by two renowned International speakers, Sean Seah (Master of Value Investing - the "Buffett" way) and Sandy Jadeja (Chief Market Strategist who has accurately predicted dozen of market crashes. Featured on CNBC, UK Business Insider and more!), this is what you will learn.
Round 1: Value Investing By Sean Seah
- Learn how to research and read into global markets, trends and companies
- Transforming your insights today into informed decisions and long-term profits tomorrow
- Create an investment portfolio that generates profit with low risk
Round 2: Technical Trading By Sandy Jadeja
- Learn how to read and analyse market patterns and why it's as easy as a trip to 7–11
- Know when the best and worst times are to invest in properties and commodities
- Immediately create a 2nd income
Round 3: The best of Both worlds
- Combine both value investing and technical trading to create an immense and diversified income stream
- Create a portfolio that utilises both long-term and short-term investments
- With the best of both worlds, customise your investment journey with systems that suit your risk appetite and experience
It doesn't matter whether how well-versed (or lack thereof) in investing & trading you are. The only thing that truly matters is that you're equipped to win the financial game of life, and Investomania is there to help you step up. Join us now!