Sorry, this event's been and gone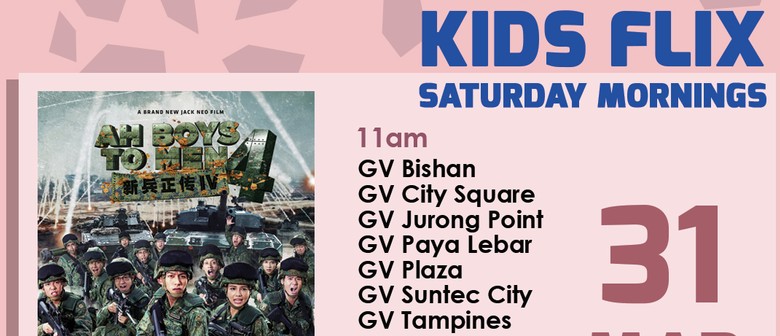 Kids Flix: Movie – Ah Boys To Men 4 [2D]
- Enjoy fun movie times with your kids for only $6!
- Get a free gift with every ticket purchased, whilst stocks last!

Free admission for kids below 90 cm. plus free gift whilst stocks last. Tickets are available for purchase at Golden Village website, iGV app [on iphones and android], GV Automated Ticketing Machines & GV Box Offices.

Synopsis [Rating: PG13]
Singapore's most successful movie franchise is back! After leaving the military, Lobang, Wayang King, Sergeant Ong, and Ken Chow are all busy with their respective career as civilians. That's until they are called back to serve the nation again under the Singapore Armed Forces' Armoured Formation. Now they must juggle between work and their reservist duties. What hilarious situations will happen as they train together and their military roles are reversed? There'll be new enemy threats and their brotherhood will be put to the test.