Sorry, this event's been and gone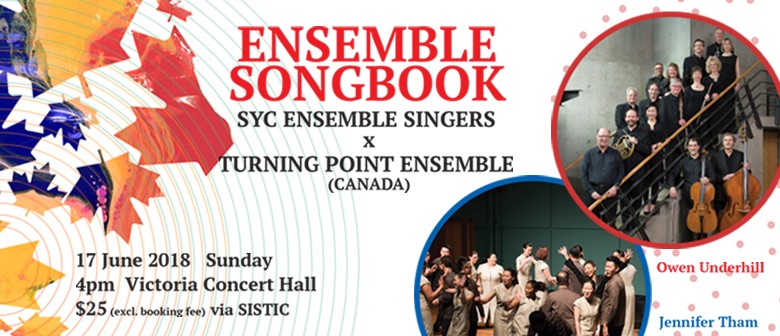 When:
Sun Jun 17 2018, 4:00pm–6:30pm
Websites:
New Music strains its neck to look back at the Past: a Shakespearean squall, verses scribbled by bored mediaeval clerics, one lullaby retrieved from a Winter's day...
A performance by an uncommon two-headed creature: Singapore's own SYC Ensemble Singers meets the acclaimed Vancouver-based Turning Point Ensemble, meets voices, winds, strings and percussion, meets God and Man, meets continent and island, meets Love and Death, meets faraway and nearby.
Showcasing the work of Canadian composers, the programme includes Owen Underhill's suite for instrumental ensemble and choir A Middle English Songbook (2007), Alexina Louie's A Curious Passerby At Fu's Funeral (2015), and Rita Ueda's triple-movement yuki ya kon (2017)—an unmissable lineup of contemporary music reinventing the ensemble format.
About Turning Point Ensemble:
Founded in 2002 by its musician members, Turning Point Ensemble is a large chamber ensemble comprising 16 instrumentalists and its conductor, Owen Underhill. With the mandate to increase the understanding and appreciation of music composed during the past hundred years, the ensemble has built a strong reputation for outstanding musicianship and linking seminal 20th-century repertoire to contemporary works through thoughtful programming and innovative presentations. In addition to releasing four albums, the ensemble is also the recipient of the Rio Tinto Alcan Award for Music—Canada's largest production prize for music.