Sorry, this event's been and gone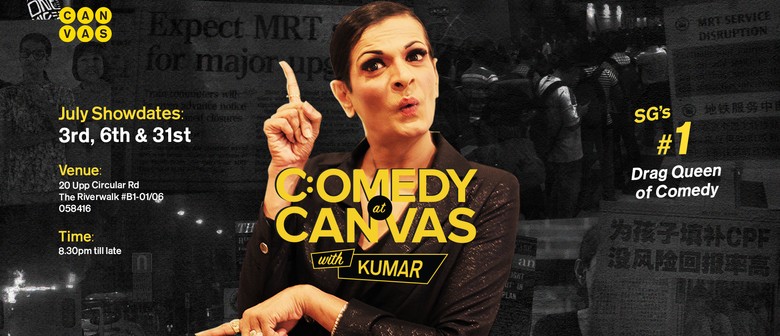 When:
Tue Jul 3 2018, 8:30pm–11:30pm
Fri Jul 6 2018, 7:00pm–10:00pm
Tue Jul 31 2018, 8:30pm–11:30pm
Kumar: Singapore's Iconic Drag Comedian
Kumar is undoubtedly one of the country's leading comic and drag queen who's been making a name for himself since the early nineties. Believe it or not, he's spent 20 years in the entertainment industry—conquering television, film and the stage—and is primarily known for keeping locals humored at the now defunct Boom Boom Room.
After several years of cracking relentless jokes, performing lip-synching sets, doing traditional Indian dance, and getting jiggy with hunky go-go boys, we still haven't had enough of Kumar.
Besides this local legend's entertainment talents, he is also admired for his bravery to speak up for queer issues and those pertaining to controversial local politics. Not forgetting his love for poking fun at all things taboo in Singapore, Kumar never fails to humor us with his quirky racial and sexual observations. And the best part is, he always manages to get away with his comments from local authorities.
You might disagree with us, but we believe that Kumar will always be a prominent voice for all Singaporeans regardless of race, gender and sexual orientation.
Seating begins at 8:30pm.
Seats are pre-allocated according to no. of pax per transaction.
Show is from 9pm to 11pm with a break in between.
Parking:
- The Riverwalk Multi-Storey Car Park
- URA Open Car Park at Carpenter Street and Upper Circular Road (Free parking after 10:00pm)
*Tickets are not refundable or exchangeable
Enquiries:
+65 8125 0166