Sorry, this event's been and gone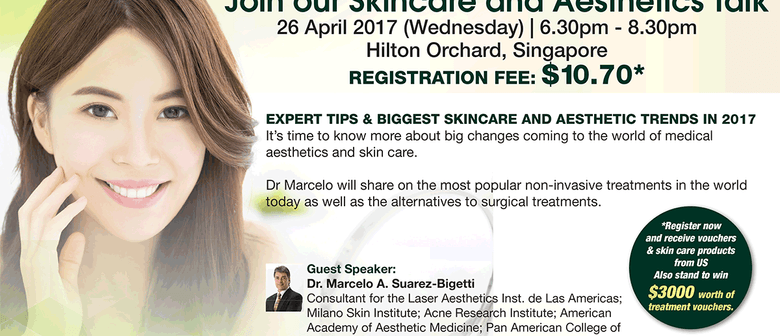 When:
Wed Apr 26 2017, 6:30pm–8:30pm
Ticket Information:
Skin Care and Aesthetic Talk:

$10.00

Additional fees may apply
Website:
Expert tips & biggest skincare and aesthetic trends in 2017.
It's time to know more about big changes coming to the world of medical aesthetics and skin care. Dr. Marcelo will share on the most popular non-invasive treatments in the world today as well as the alternatives to surgical treatments.
*Register now and receive vouchers & skin care products from US. Also stand to win $3000 worth of treatment vouchers.
Dr Marcelo Suarez (USA)
Senior International Faculty, American Academy of Aesthetic Medicine
Dr. Marcello A. Suarez completed his training as a General Surgeon, specializing in vascular surgery, and is recognized as an authority in the subspecialty of phlebology. Dr. Suarez has pioneered the exploration of new therapies for the treatment and prevention of vein-related disorders. He has developed original surgical procedures in cosmetic surgery, developed a technique for auto-grafting and autologous adipocyte transplantation, developed a proprietary technique for follow up CO2 laser resurfacing techniques, and conducted animal and human clinical trials on wound healing and laser tissue interaction.
Dr. Suarez has been involved in physician training programs for 19 years including many topics in clinical dermatology, cosmetic dermatology, and dermatological surgery. He has been developing Continuing Medical Education programs from the time he received his board certification in cosmetic medicine in 1998; working in conjunction with CME committee/advisory boards; education companies and communication companies; university health science centers; state/regional/local medical societies and state/regional CME organizations, he is integrally involved in the educational planning of certified activities, including needs assessment, the writing of educational objectives, and evaluation of program effectiveness in meeting identified needs of continuing medical education (CME) programs and symposia for physicians, pharmacists, nurses, and other health care professionals in the United States, Canada, and Europe.
Dr. Suarez sits on several Scientific Advisory Boards and is a Consultant for the Laser Aesthetics Inst. de Las Americas; Milano Skin Institute; Acne Research Institute; American Academy of Aesthetic Medicine; Pan American College of Aesthetic Medicine. He has published numerous articles in a variety of Medical Journals.