Sorry, this event's been and gone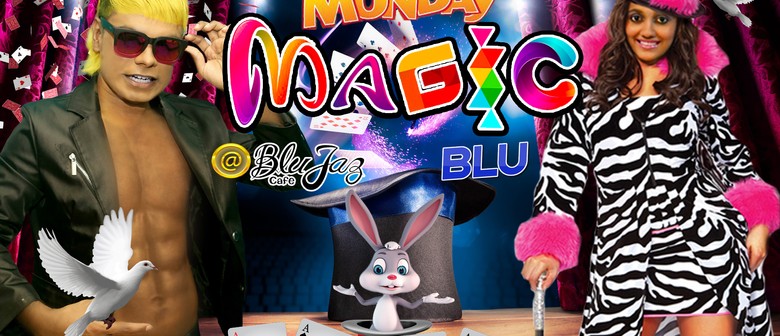 When:
Mon Jul 3 2017, 8:00pm–10:30pm
Where: Blu Jaz Cafe,

11 Bali Lane, Rochor-Kampong Glam, Singapore
Website:
Monday Magic Blu is an exciting parlour style magic in a cosy ambience setting with creative drinks and delicious affordable food in the most romantic hangout in Singapore, Blu Jaz Cafe.
About the Main Artiste :
Ran Superman is a Latin Singaporean who is known as a Luxury Multiple Acts Entertainer. Ran Superman shows are talk of the town power performances which provides never seen before entertainment shows anywhere around the globe.Ran Superman was handpicked in Asia to complete a Doctorate in Magic Studies from the International Magician Society, which has the largest number of magicians globally.David Copperfield was the 1st Magician to complete this Doctorate.
Ran Superman's mentor was Tony Hassini , who is also the mentor to David Copper field, Ran was invited to perform in Las Vegas MGM Grand in 2014. Ran is a Guinness World Record Holder, Singapore Book of Records Holder, Asia Excellence Award Winner and Life Long Learner. He has won the Merlin award in 2014 for the title "Best Variety Entertainer" Merlin award is equivalent to Oscars and Grammy making him the 1st Magician globally to receive this title. He was also the Chief Judge for Asia Magic Competitions for 2 years. He has trained 1000 over magicians globally. He has appeared in Singapore, Papua New Guinea, UK and India TV shows. He have also appeared in multiple Print Media and heard in Radio internationally.
His stage Partner Sally also received the Merlin award in 2014 for the title "Best Variety Entertainer" too making this duo couples the biggest entertainment tycoons. Their creative entertainment platter shows gives clients absolute never seen before entertainment shows which is sure to make guests have a roller coaster ride of fun and memorable moments of joy. Being a Jack of All Trades on stage, Ran Superman is the versatile artiste to turn to for any type of event happening locally in Singapore or anywhere around the globe. Ran Superman promises and guarantees to entertain and leave a lasting impression on the quality of your event as he blends world class production entertainment values in all his shows. His superlative menu of variety shows are always in high demand as he performs for more than 200 shows annually and internationally.
Come and attend this event to witness jaw dropping magical miracles happen right in front of your eyes.
Ticket price includes entry to the 3 gigs.
Show time as follows:
8pm–8:30pm (Gig 1)
8:30pm–9pm (Break)
9pm–9:30pm (Gig 2)
9:30pm–10pm (Break)
10pm–10:30pm (Gig 3)
Buy your tickets here: http://mondaymagicblujuly2017.peatix.com.