Sorry, this event's been and gone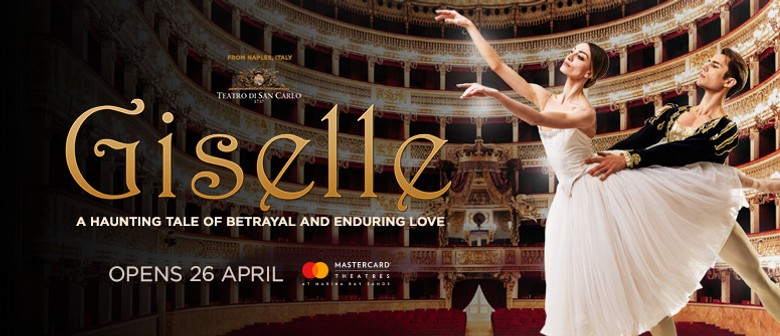 When:
Wed Apr 26 2017, 8:00pm–10:00pm
Thu Apr 27 2017, 8:00pm–10:00pm
Fri Apr 28 2017, 8:00pm–10:00pm
Sat Apr 29 2017, 3:30pm–5:30pm
Sat Apr 29 2017, 8:00pm–10:00pm
Website:
Direct from the most ancient opera house in the world, Teatro Di San Carlo, Naples, Italy.
As the ballet begins, a nobleman named Albrecht is busily wooing a young, beautiful peasant girl named Giselle. Albrecht leads the young maiden to believe that he is a farmer named Loys. Giselle falls in love with the man, unaware that he is already betrothed to Bathilde, daughter of the Duke. She agrees to marry the man, despite the romantic advancements of another peasant, Hilarion, who suspects that Albrecht is an imposter. Giselle wants badly to dance, but her mother warns her that she has a weak heart.
A Prince and his entourage are soon announced by a hunting horn. When the prince's daughter realizes that she and Giselle are both engaged, she gives her a gold necklace. Hilarion tells Giselle that Albrecht has been deceiving her, that he is actually a nobleman.
Bathilde quickly reveals to Giselle that Albrecht is indeed her fiance. Horrified and weak, Giselle goes mad and dies of a broken heart.
The second act of the ballet takes place in a forest beside Giselle's grave. The Queen of the ghostly Wilis, virgins who have died of unrequited love, calls upon them to accept Giselle as one of their own. When Hilarion stops by, the Wilis make him dance to his death. But when Albrecht arrives, Giselle (now a Wili herself) dances with him until the Wilis' power is lost, when the clock strikes four. Realizing that Giselle has saved him, Albrecht cries at her grave.