Sorry, this event's been and gone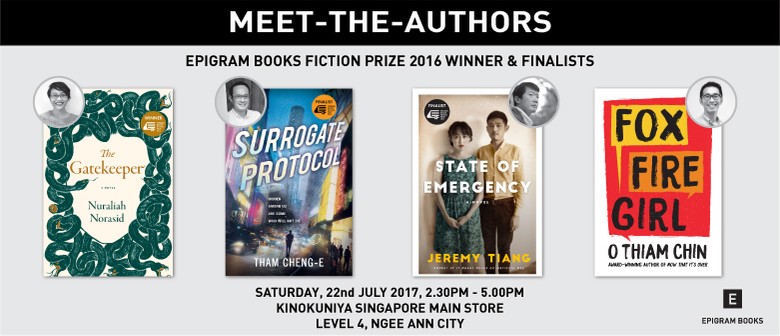 When:
Sat Jul 22 2017, 2:30pm–5:00pm
Website:
A young medusa who becomes the protector of a marginalised community driven underground. An immortal barista fighting for survival against an organisation bent on hunting him down. A family caught in the political currents of the Malayan Emergency, through Konfrontasi to the so-called Marxist Conspiracy, from the 1940s to the present. And a struggling writer, a man with an unhealthy obsession with fire, and a girl whose past is told through stories that make them yearn for more.
Introducing two new Singaporean voices in fantasy fiction—Nuraliah Norasid (The Gatekeeper) and Tham Cheng-E (Surrogate Protocol)—and two prominent Singaporean writers—Jeremy Tiang (State of Emergency) and O Thiam Chin (Fox Fire Girl)—all of whom are making waves in Singaporean literature with their brand-new literary works.
Nuraliah Norasid & Tham Cheng-E: 2:30pm–3:30pm
Jeremy Tiang & O Thiam Chin: 4pm–5pm
Free to Public (Please show the relevant Books Kinokuniya receipt upon requesting the authors' autographs).