Sorry, this event's been and gone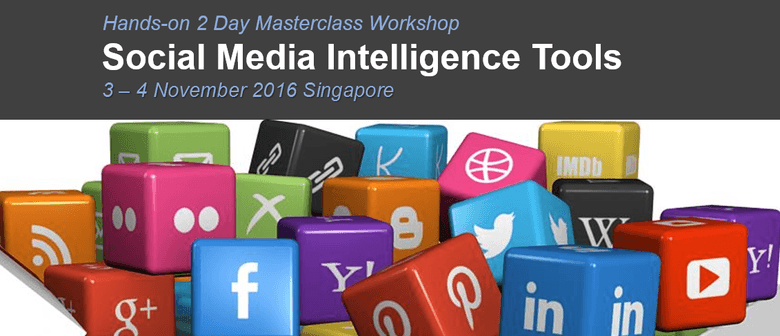 When:
Thu Nov 3 2016, 9:00am–5:30pm
Fri Nov 4 2016, 9:00am–5:30pm
Website:
Social Media Intelligence Tools - 2 Day Masterclass (3-4 Nov 2016) Singapore.
Develop a robust social media intelligence operative plan and strategy with the newest platforms, unique tools and techniques. Be fully equipped to implement an actionable plan after this attending this insightful course.
Highlights:
- Spot trends, understand emotions and sentiments online.
- Social listening vs. social intelligence. Filter and makes sense of the data.
- Navigate successfully amidst growth and diversification in the social space.
New & exciting key topics to be covered in-depth:
- New dynamics in today's social media newest landscape: New platforms, new apps, new tools and global trends. How are these social channels being used?
- Key implications for social media intelligence and data analysis.
- Understanding social media narratives, and monitoring local community to global sentiments.
- Identifying the most significant channels and platforms.
- From social listening to understanding, influencing community dynamics and creating greater relevance to content, services, products and key operations and working in real time.
- The social media intelligence continuum and the intelligence model.
- Filtering data and data management. What to look out for (social data and patterns).
- The development of a systematic process for content discovery & curation.
- Setting up a proficient social media intelligence dashboard.
- Security measures to use when accessing and monitoring social media data and conversations.
- Use of metadata, geo-location, digital images, digital footprints. Key methods for capturing data, spotting trends and narratives. Plug-ins, add-on features and social book markings, search engines and advanced search techniques.
- Profiling social media users on the various social media sites. Case studies & examples.
- Open source intelligence gathering tools and freeware tools for user profiling.
- Delivering a meaningful and actionable intelligence plan.
For group participation, please email us at reg@asher-russell.com
Website - www.socialmedia-tools.com
Organized by Asher Russell Pte Ltd
www.asher-russell.com