Sorry, this event's been and gone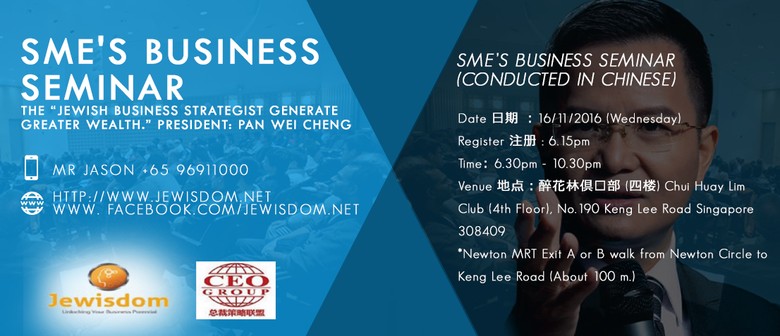 When:
Wed Nov 16 2016, 6:30pm–10:30pm
Website:
Take advantage of our 1-Day seminar (Jewish Business School Seminar Conducted in Chinese) and skyrocket your Business…
Why Choose The Jewish Business School Seminar?
This is an amazing opportunity to witness one of the worlds leading experts on business from the "Jewish Business School" teach you his secrets for succeeding in business.
-You will learn the secrets that drive the economy and how you can utilize these secrets to skyrocket your business.
-You will be given first hand knowledge on how you can stimulate and develop your business with real life training simulations.
-Get access to business secrets that are worth 1000's of dollars!
A Little Bit About the "Special Speaker"...
The "Jewish Business School" President: Pan Wei Cheng.
-The first man in China to teach the Jewish Business Strategy
-He spent millions of his own money traveling to Israel to meet with and learn from some of the most successful Jewish businessmen and business professors in the world. After immersing himself in the practical applications learned while traveling he spent the next ten years learning and mastering the Jewish business strategy. He promises to "Spread the Jewish Business Strategy to help all Chinese businessmen to succeed in their businesses". He idealistic approach is to not only to help Chinese businessmen build stronger and more profitable businesses but to also help them to discover untapped business resources and develop those to strengthen and generate greater wealth. With this in mind he has now established the "Jewish Business School".
-Helped an enterprise turn 20,000 RMB into 10,000,000 RMB profit.
-Worked with a company for 6 months and increased profits from 3,000,000 RMB to 24,000,000 RMB
-Took a company in 18 months from outputting 3,000,000 RMB to 120,000,000 RMB in sales.
-Guided a company that started with only a "table" to work from to being listed on the Shanghai Stock Exchange with a value of over 100,000,000 RMB.
*Newton MRT Exit A or B walk from Newton Circle to Keng Lee Road (About 100 m.)
*Dinner will be provided.
Get you complimentary free ticket now before it is gone.
(For first 50 persons that sign up for our event is free)

You can register for our event by filling out the google form below: http://bit.ly/2dx42kk

Jewisdom Intl Pte Ltd
Mr Jason +65 9691 1000
For more detail or visit our website: http://www.jewisdom.net.