Sorry, this event's been and gone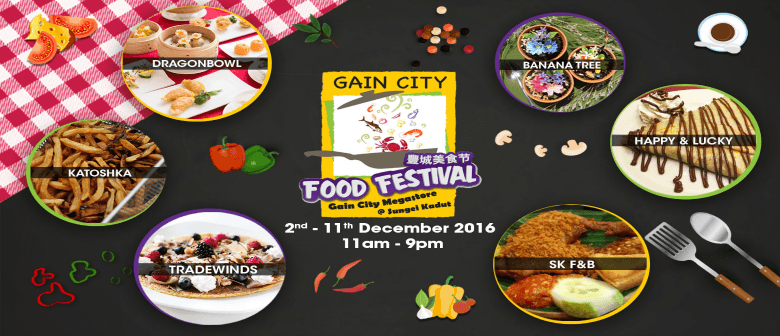 When:
Fri Dec 2 2016, 11:00am–9:00pm
Sat Dec 3 2016, 11:00am–9:00pm
Sun Dec 4 2016, 11:00am–9:00pm
Mon Dec 5 2016, 11:00am–9:00pm
Tue Dec 6 2016, 11:00am–9:00pm
Wed Dec 7 2016, 11:00am–9:00pm
Thu Dec 8 2016, 11:00am–9:00pm
Fri Dec 9 2016, 11:00am–9:00pm
Sat Dec 10 2016, 11:00am–9:00pm
Sun Dec 11 2016, 11:00am–9:00pm
Website:
Come on down to the Gain City Food Festival hosted at the level 1 promenade of the Gain City Megastore at Sungei Kadut between 2nd to 11th of December! That's right, for 10 days only, we will be offering a slew of exciting food vendors raring to delight your taste buds with their delicious food! Plus, be treated promotional offers specially catered to this event! Here are some highlights!
Korean pop culture lovers, this one's for you! First up on our list of vendors is something café hoppers and instagrammers would go crazy for! Grab that insta-worthy shot because The Banana Tree Café offers Som Som drinks and pretty pudding desserts shaped like potted plants that you need to see to believe! If you're craving for more Korean fare, why not try some Dakgangjeong (fried chicken) and spicy kimchi fries made by our very own team of talented chefs!
No food festival in Singapore is complete without local pasar malam favourites such as Ramly Burger, Prawn Vadai, Putu Piring an Ondeh Ondeh at affordable prices! Be sure to give those a try! If freshly steamed Dim Sum is your thing, we've got you covered too; with a special array by Dragon Bowl— experts of Cantonese cuisine. Or why not try Katoshka's famous fresh hand cut Russet Fries seasoned with a mix of herbs and spices to provide a rustic flavor, paired with premium sauces such as their signature, 'special cheese'. Up for something sweeter? Indulge in some Choco Kebabs and beverages such as choco mint coffees reminiscent of popular Christmas drinks!
And lastly, we know how hard it can be to get your hands on Korean snacks such as ramen, seaweed and the like! Come on down to the Gain City Food Festival because we have a specially curated set of food vendors selling these and more!
While enjoying the food, be wowed with performances by Raiyan & Nisha on 3rd December and Michael & Xena on 10th December! They will be performing at 2:15pm and 5:15pm on their respective dates. Raiyan and Nisha have performed at many Republic Poly events. Nisha first picked up the piano at 7 and the guitar soon after. She looks up to singer-song writers such as John Mayer and Ed Sheeran and she is always on a look out for new adventures. Raiyan is a self-taught musician who learnt the guitar and bass at the young age of 11 and he is a huge fan of anything outdoors! See you there!