Sorry, this event's been and gone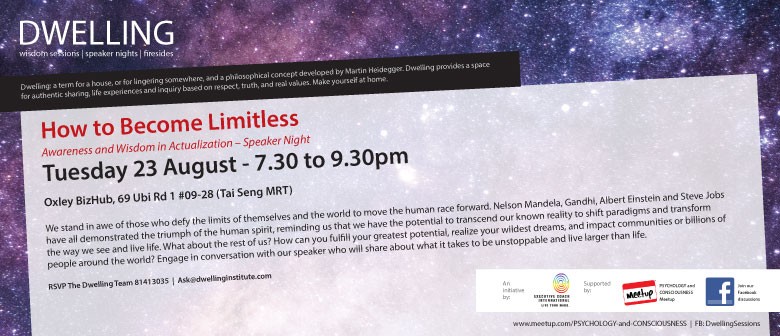 When:
Tue Aug 23 2016, 7:00pm–9:30pm
Website:
We stand in awe of those who defy the limits of themselves and the world to move the human race forward. Nelson Mandela, Gandhi, Albert Einstein and Steve Jobs have all demonstrated the triumph of the human spirit, reminding us that we have the potential to transcend our known reality to shift paradigms and transform the way we see and live life. What about the rest of us? How can you fulfill your greatest potential, realize your wildest dreams, and impact communities or billions of people around the world? Engage in conversation with our speaker who will share about what it takes to be unstoppable and live larger than life.
Join the discussions on the Dwelling Facebook Page: www.facebook.com/DwellingSessions.
We will start providing drinks from 7pm. Please come to register and join us for networking.
Please complete your registration: www.dwellinginstitute.com/event-sign-up.
You can also RSVP or direct your enquiries to The Dwelling Team @ 81413035 or Ask@dwellinginstitute.com.
About Dwelling:
Dwelling is a space for exploring the fundamental aspects of life through our Wisdom Sessions, Speaker Nights, Firesides, and Workshops. We seek to deepen our self-awareness and enrich our life-experiences by looking beyond assumptions to forge new understanding, and paths for growth and real change.