Sorry, this event's been and gone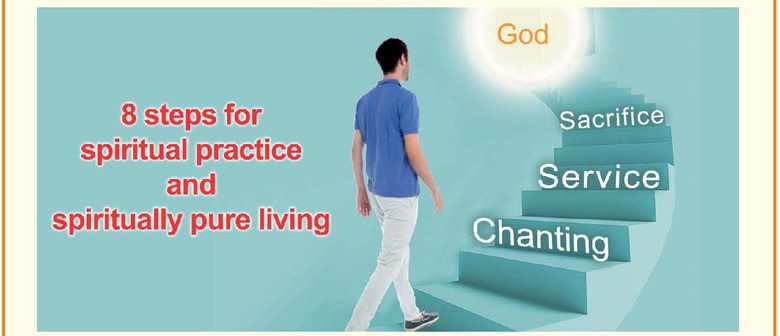 When:
Fri Dec 2 2016, 7:00pm–8:30pm
Website:
The Spiritual Science Research Foundation invites you to attend a unique spiritual lecture presented by Mrs. Shweta Clarke. All are welcome.

In today's times there are many spiritual practices and various paths that one can follow. There is a spiritual principle that in order to make spiritual progress, the spiritual practice that one undertakes needs to be as per the current times. Just as we would not sow seeds during a drought, if we ensure that our spiritual practice incorporates aspects that are needed in the current times, it will help ensure our spiritual progress.

Under the guidance of His Holiness Dr. Athavale, who is the inspiration of the Spiritual Science Research Foundation, SSRF has recommended 8 aspects of Spiritual Practice that take the necessary components of various spiritual paths for today's era. These 8 aspects include Chanting the Name of God, Being in the Company of the Truth, Service to the Truth, Sacrifice, Spiritual Love, Ego Removal, Personality Defects Removal, and Spiritual Emotion. This session will give an overview of each of these different aspects of spiritual practice that can be incorporated into your current spiritual practice.

This lecture is free of cost to attend and donations to The Spiritual Science Research Foundation are welcome.

About the presenter: From her early childhood Shweta had an innate love for God and wished to serve Him. She always imagined herself devoting her life completely for spiritual practice but wondered how she would go about it. When she met His Holiness Dr Athavale for the first time in 1997, Shweta knew her search was over. Under His guidance Shweta started spiritual practice in earnest. In 2008 she put aside her career in human resource management for full-time satseva (service to God) in the Spiritual Research Centre in Goa, India. Since then she has been exposed to a wide array of satsevas at the Spiritual Research Centre and Ashram and has shown a lot of enthusiasm and dedication for them.
Her love for her co-seekers is very natural. Whenever somebody asks for help, without a moment's hesitation Shweta is always prompt to help. Today she is responsible for nurturing new seekers for SSRF in the India region, co-ordination of all articles for the SSRF website, answering of questions on the SSRF website and organising and conducting spiritual workshops in Goa. She has a lot of desire to help others in their spiritual journey. Her qualities of leadership, promptness, love for others and spiritual emotion towards God are expressed in the satsevas she does.

This event is organized by:
The Spiritual Science Research Foundation
www.ssrf.org
Locating unit:
Take lift at Block 232 (behind Food Court), Unit 37 is opposite to the lift lobby on 4th floor.
Take escalator to 4th floor and walk down the left corridor when facing ArtMark to Unit 37.