Sorry, this event's been and gone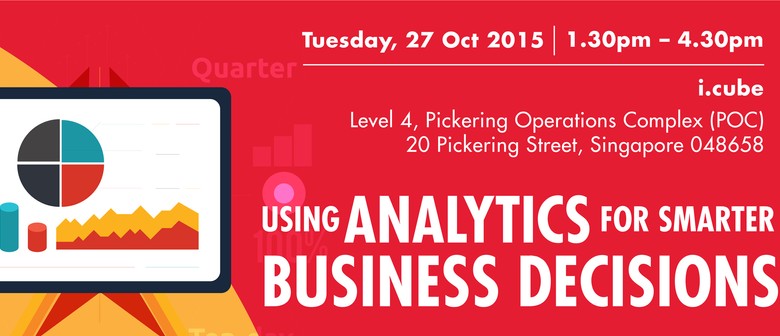 When:
Tue Oct 27 2015, 1:30pm–4:30pm
Website:
MIS' Marketing Guru Talks
What textbooks can't teach you, MIS makes it up by providing you real-life insights, perspectives and experiences! The gurus have been there, done that and are willing to share their success stories. The Marketing Guru Talk serves as an avenue to share best marketing practices, tips & trends to members and the public. MIS aims to explore the various aspects of Marketing and seek gurus from respective fields & industries to share their knowledge and expertise.
Using Analytics for Smarter Business Decisions – A MIS-Singtel Joint Seminar [27 Oct]
According to a recent Forbes report, 89% of business leaders believe analytics will revolutionise business operations. Analytics not only provides marketers with valuable insights but also serves as the driving force behind the effectiveness of digital marketing.
Understanding your customers' behaviour and preferences helps you drive targeted messages across different digital and social platforms, allowing you to communicate with them more effectively.
In collaboration with the Marketing Institute of Singapore (MIS), Singtel invites you to a complimentary workshop on Digital Marketing analytics and WiFi analytics (worth S$1,200). Learn how to increase your digital presence and give your business a sharper competitive edge!
Key Points:
• Learn how analytics enables you to gain insights on your customers so as to develop effective marketing strategies
• Understand how to put together an effective web measurement programme to define and improve marketing ROI
• Acquire skills to better market your products or services to your target audience using the right tools and platforms
Register now at www.mis.org.sg/events, email events@mis.org.sg or call 6327 7581 for more information.