Sorry, this event's been and gone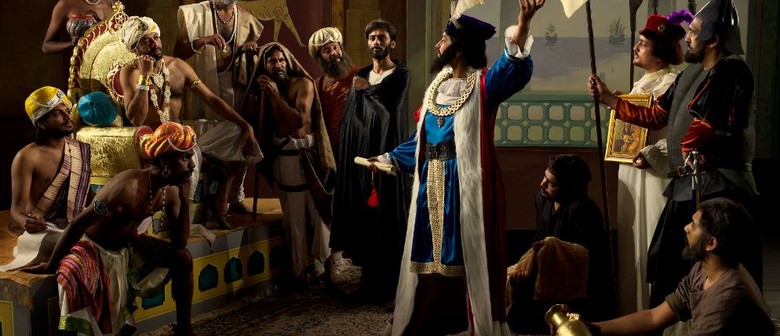 When:
Wed Jun 24 2015, 7:00pm–10:00pm
Thu Jun 25 2015, 12:00pm–10:00pm
Fri Jun 26 2015, 12:00pm–10:00pm
Sat Jun 27 2015, 12:00pm–10:00pm
Sun Jun 28 2015, 12:00pm–6:00pm
Tue Jun 30 2015, 12:00pm–10:00pm
Wed Jul 1 2015, 12:00pm–10:00pm
Thu Jul 2 2015, 12:00pm–10:00pm
Fri Jul 3 2015, 12:00pm–10:00pm
Sat Jul 4 2015, 12:00pm–10:00pm
Where: 72-13,

7213 Mohamed Sultan Rd, Clarke Quay, Singapore
Website:
Opens 24 Jun (7pm - 10pm)
25 June through 4 July (Tue - Sat: 12 noon - 10pm; Sun: 12 noon - 6pm; Mon: closed)
FREE ADMISSION with O.P.E.N. Pass. Limited single entry tickets available at the door.
The Arrival of Vasco Da Gama (2014) is a photographic recreation that deconstructs an 1898 orientalist painting by Portuguese painter José Veloso Salgado - "Vasco da Gama perante o Samorim" - which depicts Vasco da Gama's first meeting with the Zamorin of Calicut. Having discovered a direct sea route to India from Europe, da Gama disembarked on the shores of Calicut in May 1498. His meeting with the Zamorin to wrestle trading privileges was unsuccessful as the ruler, unimpressed by the goods Gama brought, refused to conclude a trading pact with him.
Salgado imagines da Gama addressing the Zamorin's court: a nobly attired European visitor surrounded by the imagined decadence of an oriental court. The colonial painting reflects a time when non-European societies were seen as savage hordes who were ruled by despotic kings and awaiting Europe's civilising touch.
Bangalore contemporary artist Pushpamala N.'s photographic tableau recreates Salgado's painting with a significant twist in the tale - she plays the role of the celebrated explorer, her first male role amongst all her photo-performances. Turning Salgado's conception on its head, Pushpamala returns what is effectively a work of imagination, one that had gained a degree of historical legitimacy over time, to the space of fiction and masquerade.