Sorry, this event's been and gone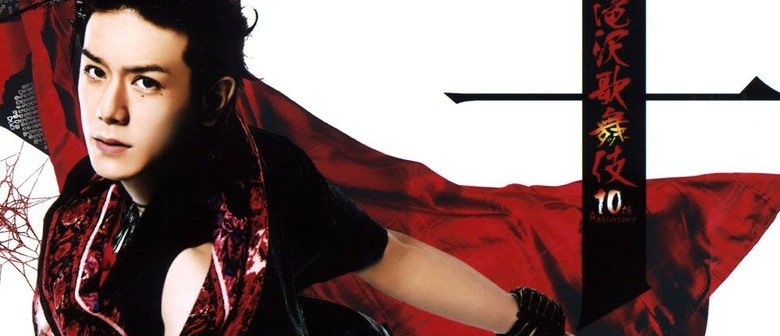 When:
Tue Aug 18 2015, 7:30pm–9:25pm
Wed Aug 19 2015, 7:30pm–9:25pm
Thu Aug 20 2015, 3:00pm–4:50pm
Thu Aug 20 2015, 7:30pm–9:25pm
Fri Aug 21 2015, 7:30pm–9:25pm
Sat Aug 22 2015, 3:00pm–4:50pm
Sat Aug 22 2015, 7:30pm–9:25pm
Sun Aug 23 2015, 3:00pm–4:50pm
Takizawa Kabuki is a high-production Japanese stage show headlined by Japanese pop-superstar and actor, Hideaki Takizawa. Kabuki, the ancient traditional Japanese theater form dating back to the 17th century, is a highly stylized form of art showcasing elaborate costumes and make-up and exaggerated acting. Through Takizawa's modern interpretation of traditional Japanese culture and arts, Kabuki has been revolutionized by his mesmerizing performance featuring elements of pop and Japanese cultures and with the help of state-of-the-art technology.
The inaugural show in Singapore will celebrate Takizawa Kabuki's 10th Anniversary with the theme of Four Seasons of Japan and will comprise of electrifying new scenes and a selection of the best scenes from past Takizawa Kabuki shows. Takizawa Kabuki features lavish sets and besides stellar singing,dancing and acting, it incorporates awe-inspiring elements, such as acrobatics, never-before-seen taiko drumming stunts, breathtaking illusions, exciting Samurai action, and a segment dedicated to the untold story of the legendary Samurai, Yoshitsune Minamoto. Historical Japanese tradition will be brought to the present day stage, making the art form of Kabuki accessible for all to enjoy.
A blockbuster not to be missed by the whole family, Takizawa Kabuki showcases the best of Japan's theatrical culture, and will undoubtedly re-define audience's theatre experience.