Sorry, this event's been and gone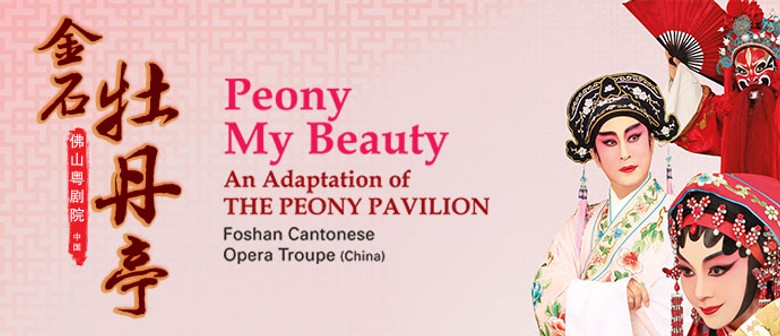 When:
Fri Sep 25 2015, 7:30pm–10:50pm
Website:
Adapted from the classic Chinese opera The Peony Pavilion, Peony My Beauty is a refreshing adaptation of the touching love story between Du Li Niang and Liu Meng Mei. The elegant movements and stylised singing on stage emphasises the earthshaking, epic struggles faced by the protagonists Du and Liu. The production boasts a star-studded cast, featuring Plum Blossom Award winners Li Shu Qin as Du Li Niang and Liang Yao An as Liu Meng Mei, as well as veteran Cantonese Opera performer Peng Zhi Quan as the Supreme Judge.
The stage design of this production is exquisitely designed and meticulously crafted, transforming the stage into an immersive setting that includes a garden with a beautifully detailed pavilion, complete with flowing streams. Together with a gripping storyline, elegant acting and melodious songs, it is little wonder that Peony My Beauty has been well-received at its performances in different cities in China and Hong Kong.
Please refer to the website for more show and ticketing details.
精诚所至 金石为开
动感天地 还魂团圆
根据经典名著《牡丹亭》重新改编,《金石牡丹亭》讲述杜丽娘和柳梦梅二人穿越生死时空的爱情故事。由香港著名粤剧编剧李居明改编,该剧表演细腻、歌曲旋律优美动人、全剧舞蹈场面多变、舞台设计美轮美奂、剧情跌宕起伏,无论是剧本的创作和制作都让人耳目一新。此剧曾经先后在南海、顺德、佛山,以及香港等地上演,赢得诸多好评。
《金石牡丹亭》由佛山粤剧院院长李淑勤重新演绎杜丽娘,其出色的演出被誉为"粤剧界最美的杜丽娘"。李淑勤是中国国家一级演员,也是粤剧界最年轻梅花奖和白玉兰奖得主,连同多位国家一级演员如一代虾腔传人梁耀安(饰柳梦梅),当红万能泰斗彭炽权(饰大判官),阵容强大,将叫粤剧迷再次感受精品粤剧的魅力。
更多详情将在艺满中秋官网发布。