Sorry, this event's been and gone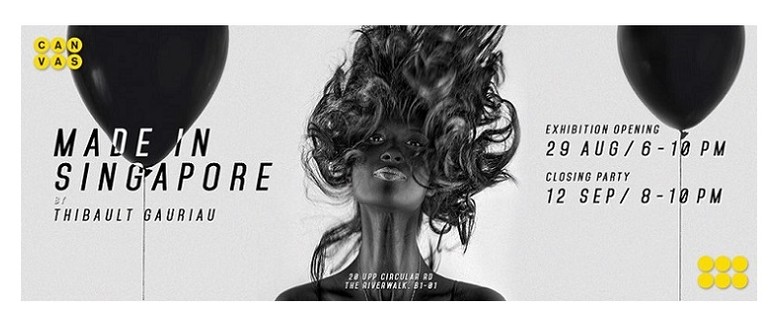 When:
Sat Aug 29 2015, 6:00pm–10:00pm
Tue Sep 1 2015, 5:00pm–9:00pm
Wed Sep 2 2015, 5:00pm–9:00pm
Thu Sep 3 2015, 5:00pm–9:00pm
Fri Sep 4 2015, 5:00pm–9:00pm
Sat Sep 5 2015, 6:00pm–9:00pm
Tue Sep 8 2015, 5:00pm–9:00pm
Wed Sep 9 2015, 5:00pm–9:00pm
Thu Sep 10 2015, 5:00pm–9:00pm
Fri Sep 11 2015, 5:00pm–9:00pm
Sat Sep 12 2015, 8:00pm–10:00pm
Canvas Creative Space is pleased to present 'Made in Singapore', the debut solo exhibition by Thibault Gauriau. The exhibition will be on view from August 29 through 12 September, 2015 with a closing party at the end of the duration.
Thibault Gauriau's selection from his latest portraiture series,'Obvious Beauty' reflects on the artistic and cultural community that gave voice to a new image for Singaporean citizens. This documentation of how modern life here can well stand to be reassessed and perceived anew on the future of our nationality. The most engaging element is the representation on cultural identity of a growing society that generates dialogue between the artist himself and his subjects. It also plays an active role in focusing on emotions and empathy. While suggesting a multiplicity or variant of the concept itself, Thibault explores individuals, emotions, characters, elegance, simplicity and grace to construct perspectives. His works and practice are undeniably of and about re-discovering our world and re-educating ourselves to see it in all its beauty and glory as a physical-social matrix.
Thibault Gauriau(b.1985) is a Senior Artist at Industrial Light & Magic/Lucasfilm Singapore. He specialises in complex visual effects work for feature film and has been a professional photographer since 2006. After studying science, his interests diverted to the arts and creativity. Thibault has worked in photography, live-action films, commercial spots, animated movies, editing, retouching and VFX post production. With a background of more than 17 movies, Thibault is passionate about passing on the knowledge and has been teaching courses and master classes for art schools in Singapore and abroad.