Sorry, this event's been and gone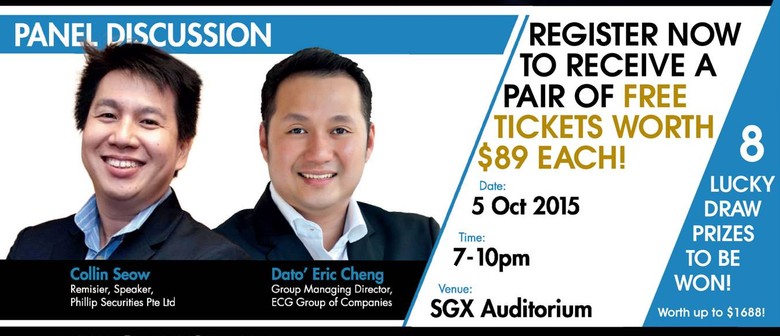 Where: SGX Center,

2 Shenton Way, Downtown Core, Singapore
An EXCLUSIVE seminar not to be missed!
Learn How and What to Invest In During Challenging Times!
Register Now to receive a Free Ticket worth S$89!
*Please take note:
- We have limited tickets to giveaway.
- We go by First come First serve basis
(If you are not sure on your attendance, please do not register.)
Registration starts at 6:30pm. Food and drinks provided.
Every ticket comes with a serial number, so we will need your name, address, contact and email for the registration.
This tickets are subject to the following conditions:
1. No exchange of tickets will be made and tickets are not transferable. No refund will be made except pursuant to event cancellation.
2. Entry will be refused if tickets have not been purchased from ECG Property Business Centre.
3. The resale of tickets at the same or any price in excess of the initial purchase price is prohibited. ECG Property reserves the right to cancel any tickets that have been resold and to deny any such Ticket Holder entry.
4. Infants in arms or children without tickets will not be admitted unless otherwise stated in Event advertisements or announcement.
5. Latecomers cannot be admitted until a suitable break during performances.
6. Entry to the Venue will be subject to the Venue's prevailing terms and conditions of entry.
7. The Promoter/Venue Owner reserves the right without refund or compensation to refuse admission/evict any person(s) whose conduct is disorderly or inappropriate or who poses a threat to security, or to the enjoyment of the Event by others.
8. No photography, audio or video recording is allowed during the Event.
9. The Promoter/Venue Owner may postpone, cancel, interrupt or stop the Event due to adverse weather, dangerous situations, or any other causes beyond his reasonable control.
10. The Ticket Holder agrees to submit any search for any prohibited items including but not limited ti weapons, controlled, dangerous and illegal substances and recording devices.
11. The Ticket Holder voluntarily assumes all risk and danger incidental to the Event whether occurring prior to, during or subsequent to the actual Event, including any death, personal inquiry, loss, damage or liability.