Sorry, this event's been and gone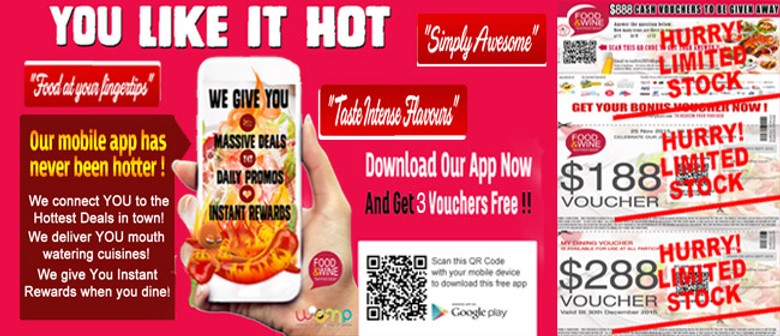 When:
Wed Nov 25 2015, 11:00am–9:00pm
Thu Nov 26 2015, 11:00am–9:00pm
Fri Nov 27 2015, 11:00am–9:00pm
Sat Nov 28 2015, 11:00am–9:00pm
Sun Nov 29 2015, 11:00am–9:00pm
Website:
All eager beavers who want to experience a gastronomical experience, be sure to get your hands on our limited stock vouchers to be used as you please. We are giving out Eatfest 2015 Festival vouchers now And it's free!!!
How to get eatfest 2015 free voucher instantly?
- Submit your WOMP ID to us to receive your $188 Voucher for free to be used at Eatfest 2015
- Your WOMP ID automatically qualifies you for the lucky draw to win an additional $888 Dining Voucher. Limited Stock
- Bonus $288 !! Receive a $288 Dining Voucher. Voucher can be used at any dining establishment featured on our mobile app.
How to get womp id instantly??
- Click on website address below
- Download our free mobile app
- Register with your Email or your Facebook account to get your WOMP ID instantly
- Submit your WOMP ID to eatfest2015@gmail.com
How to get bonus $288 dining voucher?
- Share our Free Mobile App with 30 friends to redeem your vouchers instantly.
- Take a screenshot of your share.
- Submit your screenshot to eatfest2015@gmail.com
Explore the world's best cuisines and beers. And with this year being SG50, foodies all over can expect something special in 2015! Expect fun-filled foodie adventures during the 5 day event. Get to sample from over 20 food stations from some of Singapore's popular restaurant brands and a station serving more than 100 different beers and wines from over the world. We bring to you a gastronomical experience that you'll never forget! There's something for everyone! There's a Lucky Draw on the last day of the event so be sure not to miss it! Submit your WOMP ID to us now and claim your vouchers instantly!