Sorry, this event's been and gone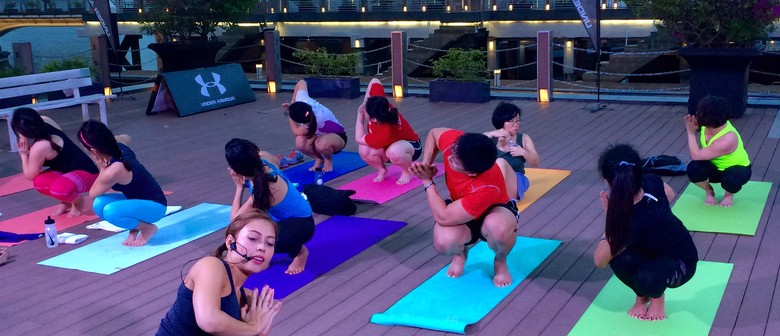 When:
Tue Jun 16 2015, 6:30pm–8:30pm
Tue Jun 23 2015, 6:30pm–8:30pm
Tue Jun 30 2015, 6:30pm–8:30pm
Tue Jul 7 2015, 6:30pm–8:30pm
Tue Jul 14 2015, 6:30pm–8:30pm
Website:
Following Under Armour's Earn Your Armour global campaign, Triple Pte Ltd, the exclusive distributor of Under Armour in Southeast Asia, has launched a regional campaign titled Earn Your Armour Southeast Asia in Singapore, Malaysia and the Philippines. The regional campaign seeks to engage each local community to build, support and empower individuals into athleticism by collaborating with international fitness institutions and fitness trainers.
As part of the new instalment of Armour@TheBay at Clifford Square, Fullerton Bay, Under Armour will next be partnering with yoga practitioner Jessica Sinclair, who will conduct complimentary yoga sessions. Throughout the challenge, you will gain encouragement and training tips from Jessica, who will be with you every step of the way, pushing you to Earn Your Armour.
Yoga sessions
6.30pm to 7.30pm: Detox and Weight Loss Class
A series of postures that will aid in improving sluggish digestion and prompt the activation of the lymphatic drainage system to flush out toxins.
7.30pm to 8.30pm: Stretch Class
A series of stretching postures that help aid in releasing tight muscles and improve blood circulation throughout the body for a good night's rest.
Dates: Tuesdays,
9 Jun 2015
16 Jun 2015
23 Jun 2015
30 Jun 2015
7 Jul 2015
14 Jul 2015
Time : 6.30pm - 7.30pm OR 7.30pm - 8.30pm
Venue: Clifford Square, Fullerton Bay
Equipment: Yoga mat
Interested participants are to sign up at https://www.tripleready.com/event-details/earn-your-armour-challenge-2-singapore.
Participation is complimentary on first come first serve basis.