Sorry, this event's been and gone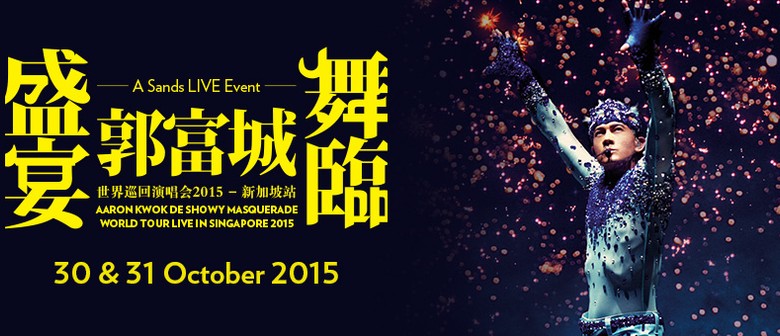 When:
Fri Oct 30 2015, 8:00pm–11:00pm
Sat Oct 31 2015, 8:00pm–11:00pm
Ticket Information:
VIP:

$480.00

A Reserve:

$380.00

B Reserve:

$280.00

C Reserve:

$180.00

D Reserve:

$88.00

E Reserve (Restricted View):

$68.00

Additional fees may apply
Website:
Related Artists:
A talented solo artiste, singer, dancer, and actor, Aaron Kwok is famous for his stage performances, which are choreographed with great creativity, impressive effects and impeccable stage productions.
Kwok, who is known as one of the Heavenly Kings, has performed sold-out shows in Hong Kong, China, USA, Canada, Malaysia and Singapore, amongst many others. With more than 60 albums released, his popular Mando and Cantopop hits such as 'Para Para Sakura', 'Wild City', 'Should I Quietly Walk Away' and 'Giving You Never Ending Love' (永遠愛不完) have been enjoyed by fans all across the world.
As with his previous concerts, expect entertaining stunts, special effects and more surprises. Grab your tickets today and get ready for a show-stopping extravaganza!
郭富城,一位才华洋溢的艺人、歌手、舞者及演员,以其慑人的舞台表演见称。演唱会上创新十足的舞蹈编排、令人印象深刻的视觉特效及绚丽多变的舞台制作皆为人津津乐道。
郭富城在香港、中国、美国、加拿大及马来西亚、新加坡举行的演唱会都场场爆满,一票难求。如同以往的演唱会,大家可期待他带来的精彩特技、出色的特效及更多舞台惊喜。今天就赶紧购买门票,准备出席一场令人叹为观止的音乐盛宴!
这场劲爆十足的演唱会由Sands Live隆重呈献。Sands Live是在滨海湾顶尖金沙娱乐场所举行的全球巨星演唱会系列,可让观众零距离感受演出者的魅力。