Sorry, this event's been and gone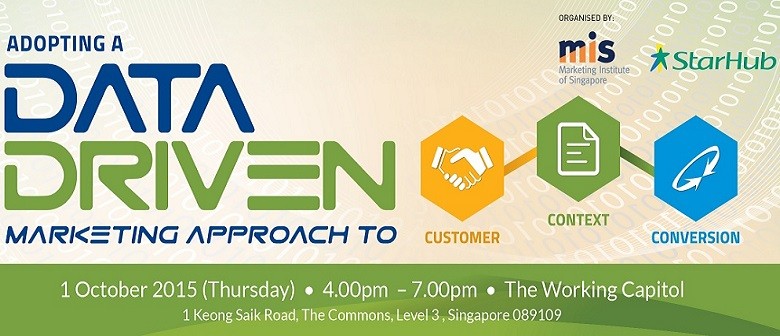 When:
Thu Oct 1 2015, 4:00pm–7:00pm
Website:
MIS' Marketing Guru Talks
What textbooks can't teach you, MIS makes it up by providing you real-life insights, perspectives and experiences! The gurus have been there, done that and are willing to share their success stories. The Marketing Guru Talk serves as an avenue to share best marketing practices, tips & trends to members and the public. MIS aims to explore the various aspects of Marketing and seek gurus from respective fields & industries to share their knowledge and expertise.
A Data-Driven Marketing Approach to 3Cs: Customer – Context – Conversion
Data-driven marketing was once, an unheard of concept, however it has evolved to become an integral part of a marketer's decision-making process in today's technologically advanced world. Marketers are now associating their decisions based on insights derived from big data, audience location, behaviour to online analytical insights.
Key Points:
• Increase your exposure on Facebook by enabling social login when customers are at your store, while at the same time further your understanding of your customers demographic through Facebook Page insights
• Have a 360-profile view of your target customer to drive targeted messaging (e.g. which mall does a typical male, aged 25 to 30 go to?
• Trigger contextual marketing messages through user movement (e.g. when a shopper arrives at the mall where your shop is located)
• Enhanced location sensitivity (e.g. which other shops did your targeted shopper visit at the same mall?)
Speakers:
Dr Lim Woo Lip
Vice President, SmartHub, StarHub Ltd
Dr Lim Woo Lip joined StarHub in November 2013 as Vice President of SmartHub, StarHub's analytics arm. In this role, he leads the development of the analytics and cyber security capabilities in StarHub. He is also responsible for establishing strategic partnerships with government agencies, institutes of higher learning and commercial companies for collaborations in the analytics and cyber security domains.
Michael Gethen
Founder, Sprooki
Michael is one of the two founders of Sprooki, a Singapore-based company in the high growth mobile commerce and proximity marketing space and has helped revolutionised the shopper experience in several major shopping malls, retailers and consumer brands across the Asia-Pacific region. For the past 15 years, Michael has worked at the leading edge of the Digital Media, Mobile Internet and Social Web world, having held senior executive or trusted advisor roles with major media companies throughout the Asia-Pacific region.