Sorry, this event's been and gone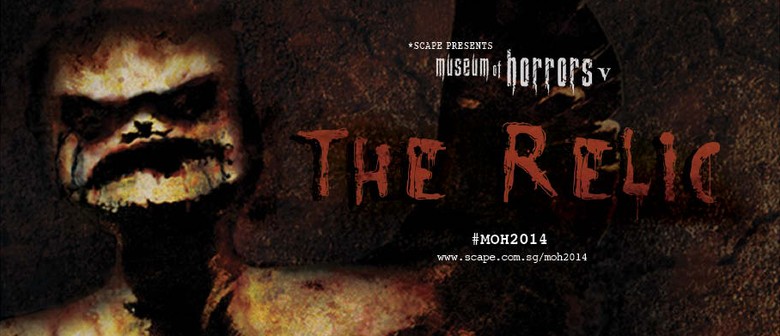 When:
Fri Oct 24 2014, 7:00pm–10:30pm
Sat Oct 25 2014, 7:00pm–10:30pm
Sun Oct 26 2014, 7:00pm–10:30pm
Mon Oct 27 2014, 7:00pm–10:30pm
Tue Oct 28 2014, 7:00pm–10:30pm
Wed Oct 29 2014, 7:00pm–10:30pm
Thu Oct 30 2014, 7:00pm–10:30pm
Fri Oct 31 2014, 7:00pm–11:30pm
Sat Nov 1 2014, 7:00pm–10:30pm
Sun Nov 2 2014, 7:00pm–10:30pm
Ticket Information:
Early Bird Ticket Sales (5 Sep to 31 Sep):

$15.00

Standard Ticket Sales (1 Oct t to 2 Nov):

$20.00

Student Ticket Sales (with valid Student Pass):

$15.00

Bundle of 4 Ticket Sales:

$60.00

Additional fees may apply
Website:
This October, challenge the ultimate curse at the fifth edition of *SCAPE's Museum of Horrors!
Unearthed from the deep sands in the Middle East is a relic so mysterious, it is believed to belong to a long-lost city as enigmatic as the Atlantis. Estimated to be over 2,000 years old, the Relic will make its public debut at the Museum of Horrors exhibition, held exclusively from 24 October to 2 November 2014 at *SCAPE, The Ground Theatre. The exhibition is open to all, and everyone finally get up close and personal with the Relic!
However, unbeknownst to most, the Relic is rumoured to be far more treacherous than the famed King Tut mummy and the fabled Hope Diamond. There are whispers that the Relic possesses an evil curse so powerful; that whoever as much dares to cast a glance directly at its eyes will encounter imminent misfortune. Of course, no one knows for sure, but everyone who seemed to have had close contact with it has met with strange, untimely demise.
Coincidence or not, we won't venture to say. Come to the Museum of Horror V: The Relic and find out for yourself!