Sorry, this event's been and gone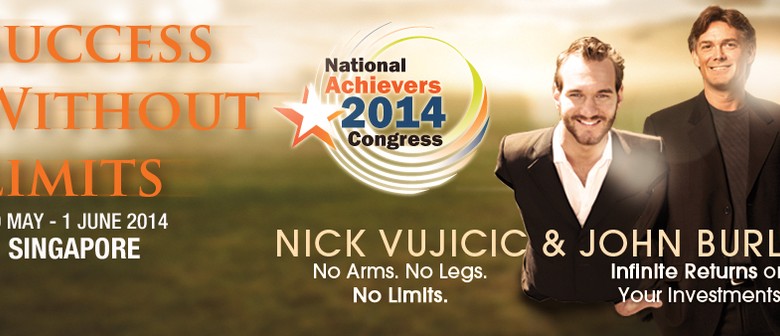 When:
Fri May 30 2014, 9:00am–7:00pm
Sat May 31 2014, 9:00am–7:00pm
Sun Jun 1 2014, 9:00am–7:00pm
Nick Vujicic was borned with no arms and no legs yet he sees no limits in achieving all the success he desired in life. Are you currently living a life of unlimited success that you are worthy of?
If you're looking for something to change in your life, you are the only person who can make it happen. Don't waste your precious time and energy worrying about the things you can't change. Focus on what you CAN change.
Meet Nick Vujicic, Tom Hopkins, Brendon Burchard, Shiv Khera and many more at the National Achievers Congress, The Biggest Success, Wealth and Networking event in 2014!
Be inspired, motivated and learn strategies on how to increase your wealth and success in 2014 from the best around the world. Wait no further, take the first step and find out how at the National Achievers Congress 2014.
Buy your ticket now to enjoy 30% discount off the retail price! Additional 10% discount for customer who refer a friends.
Contact Joe @ 8499 0462 for enquiry on best deal for group booking now.
P.S: VIP ticket inclusive of priority room access, lunch provided for 3 days of the event, exclusive Q&A session with the speakers and many more fabulous bonuses.
Hurry! Take action now!