Sorry, this event's been and gone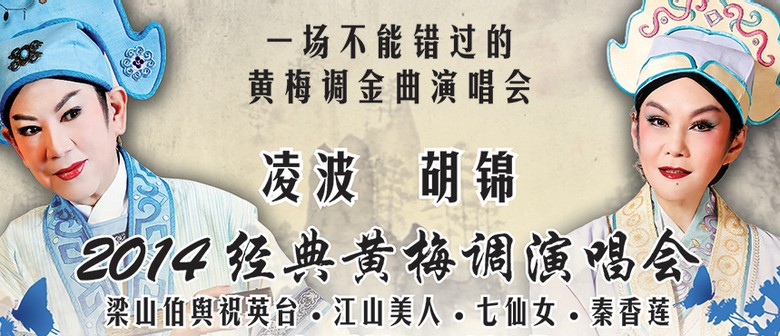 永遠的天皇巨星, 空前绝后的黃梅調演唱會票房佼佼者 ~ 凌波, 睽違 4 年, 她將再度連同胡錦繼香港, 台灣之後, 來新加坡巡迴演出. 她們將與 8 位黃梅調聖手, 包括 : 李璇、楊懷民、嘉凌、王海波、蘇霈、王慧蓮等以古裝扮相攜手演出多部炙手可熱, 轟動當時的經典黃梅調電影主題曲和插曲 ~ 必演佳作當然是眾人耳熟能詳, 當年引起萬人空巷奇蹟, 締造了永遠的 "梁兄" 的《梁山伯與祝英台》.
其他 8 位黄梅调唱匠則分別演出经典佳作《江山美人(戲鳳) 》、《秦香蓮》和《七仙女》.
凌波.胡錦 " 2014 經典黃梅調演唱會" 您絕對不容錯過!
Arriving here after multiple sold-out shows in Taiwan and Hong Kong, Ling Po and Hu Chin are teaming together to bring us 'live' their masterpiece, Liang Shan Bo & Zhu Ying Tai. Most of the songs from the movie are famous tunes and are so popular that fans can memorise the lines and sing along while they watch the movie.
Seeing them 'live' and listening to Ling Po sing in person will be a big treat for the audience. Most of their fans have never seen them in real flesh and blood, much less hear them sing 'live' on stage.
This time, they will be supported by 8 well-known singers from Taiwan who will be presenting hits from 3 other Huang Mei Diao classic movies, namely, Jiang Shan Mei Ren (江山美人),Seven Fairies (七仙女)and Qing Xiang Lian (秦香莲)。
Huang Mei Diao fans will be in for a treat.