Sorry, this event's been and gone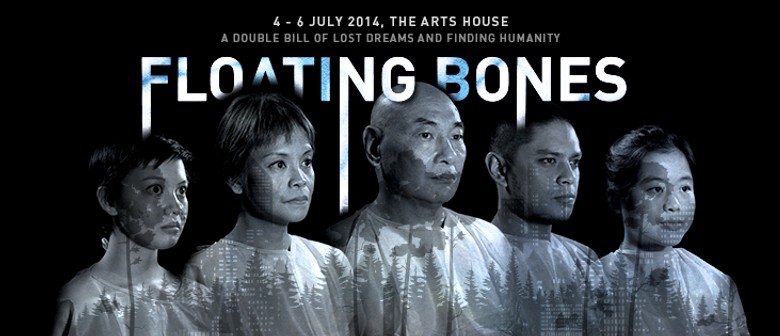 When:
Fri Jul 4 2014, 8:00pm–10:00pm
Sat Jul 5 2014, 2:00pm–10:00pm
Sun Jul 6 2014, 2:00pm–4:00pm
Website:
Floating Bones consists of two one-act plays: Floathouse 1001 by Cultural Medallion-winner Han Lao Da, and Dragon Bone by Quah Sy Ren. Starring Lim Kay Siu, Bridget Lachica, Zachary Ibrahim, Bevin Ng and Elizabeth Sergeant Tan, these originally Chinese-language plays are accessible to English-speaking audiences for the first time thanks to award-winning translator Jeremy Tiang, in a production directed by Elina Lim (Bedok Reservoir).
Floathouse 1001 offers a glimpse of a dystopian future in which the elderly and disabled are placed in pods and set adrift at sea. When the inhabitants of each pod die, it simply sinks to the ocean floor. Three people, trapped in this enclosed space, are driven halfway to madness. But what happens when the inhabitants of Floathouse 1001 decide to rebel?
Dragon Bone is a dream play, a collage of memories and impressions. A schoolboy attends his mother's funeral; a refugee from a nameless land discovers that her lover is not who he seems; a train passenger finds himself seated next to a beautiful woman – but where are all these cockroaches coming from? As we journey through these fragmentary images, we are forced to ask whether we can trust the evidence of our senses and who, ultimately, we owe our loyalty to.
Intense and thought-provoking, Floating Bones offers a stimulating introspection of life, death, loneliness and a glimpse of a future that may be closer than we think.