Sorry, this event's been and gone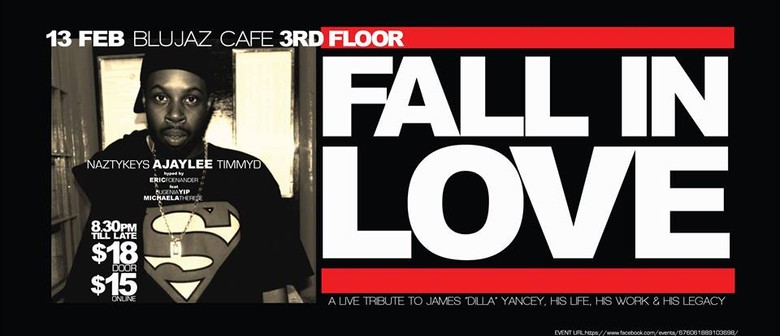 When:
Thu Feb 13 2014, 8:30pm–12:00am
Where: Blu Jaz Cafe,

11 Bali Lane, Rochor-Kampong Glam, Singapore
FALL IN LOVE is a Dilla inspired event in homage to one of the greatest producers to have ever graced hip-hop, James Yancey aka. J Dilla.
His music still endures the test of time and has surpassed labels and limits to influence a wide range of music today from The States to Asia, from Europe to Australia.
For one night only, Aaron James on drums (The Steve McQueens, Baracuda Batucada), NaztyKeys on the keys (The Good Life Project, neoDominatrix) & Tim De Cotta on bass (Tim De Cotta, TAJ) will be instrumentally interpreting Dilla's beat sampling and works of art from Slum Village to Common. They will also explore his legacy and influence in the music of later artists in the years after his passing, with the help of their good friends, Michaela Therese, Eugenia Yip and Eric Foenander...
Fall in Love: A tribute to James "Dilla" Yancey, his music and legacy.
With Aaron James on drums, NaztyKeys on keys & Tim De Cotta on bass.
Featuring special guest performances by Michaela Therese (Michaela Therese, L.A.B.) & Eugenia Yip (Riot in Magenta, The Steve McQueens)
Hyped exclusively by Eric Foenander.