Sorry, this event's been and gone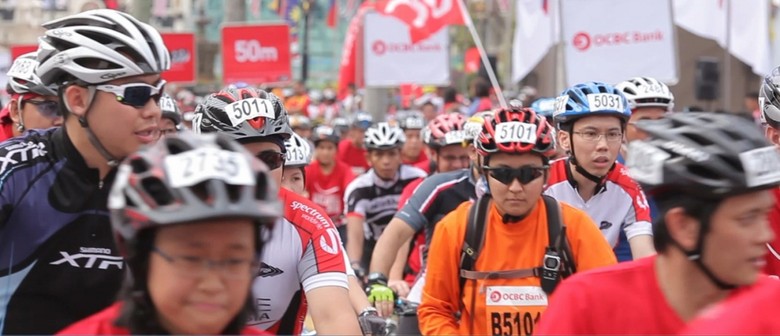 When:
Fri Mar 28 2014, 4:45pm
Sat Mar 29 2014, 1:55pm
Sun Mar 30 2014, 5:15am
Following its inaugural year in 2009, OCBC Cycle Singapore has grown into a premier mass participation event on Singapore's sporting calendar. In 2013, the fifth year of the event, over 11,000 cyclists took part in the three-day event at the F1 Pit Building.
The 2014 edition is shaping up to be another fantastic event with ride categories catering to all level of cyclist, no matter their age or ability. If you're not sure which ride to join, check out all the categories available now, for whether you're challenging yourself to go further or cycling leisurely with your friends and family – there's surely a ride for you! Even if you're not cycling, you can have fun too, by cheering for others on the side lines or simply enjoying a great day out at this year's OCBC Cycle Singapore.
Friday 28 March
Women's & Masters' Criterium -17 yrs and above / 40 yrs and above- 45 minutes @4.45pm
Men's Open Criterium - 19 yrs and above - 45 minutes @6.00pm
The Parade of Hope - 20 minutes @7.15pm
Professional Criterium - 19 yrs and above - 90 minutes @8.30pm
Saturday 29 March
The Ultimate Foldies Challenge - UFC Heat 1 - 13 yrs and above 20 minutes @1.55pm
The Ultimate Foldies Challenge - UFC Heat 2 - 13 yrs and above 20 minutes @2.35pm
The Ultimate Foldies Challenge UFC Heat 3- 13 yrs and above - 30 minutes @3.55pm
The Tricycle Ride 2-3 yrs -100m /10 minutes @5.25pm
The Tricycle Ride 4-5 yrs - 150m/10 minutes @5.40pm
The Mighty™ Savers Kids Ride - 5-7 yrs - 5km/20 minutes @5.55pm
The Mighty™ Savers Kids Ride - 8-9 yrs - 5km/18 minutes @6.30pm
The Junior Challenge -10-12 yrs - 30 minutes @7.00pm
Sunday 30 March
The Super Challenge -16 yrs and above - 59km @5.15am
The Challenge/The Charity Challenge - 14 yrs and above - 39km @6.15am
The Foldies Community Ride -10 yrs and above - 24km @7.00am
The Community Ride - 10 yrs and above - 24km @7.15am