Sorry, this event's been and gone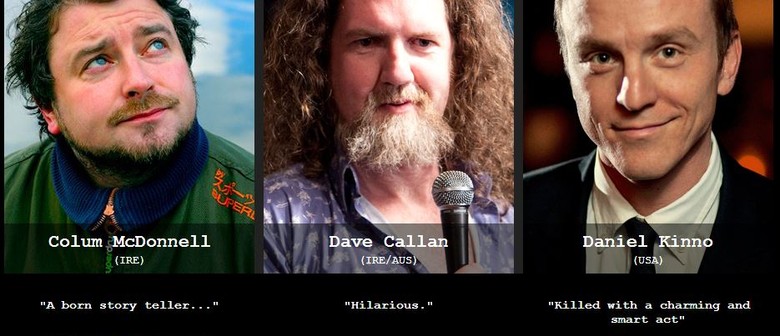 Where: Gem Bar,

10 Ann Siang Hill, Chinatown, Singapore
Colum McDonnell is one of the best kept secrets in Irish Comedy. Over the past decade Colum has established himself as a regular on the Irish and U.K comedy circuits, with his unusual and often self depreciating outlook on family, life, love and the pain of being the last living hobbit in Ireland.
As well as his numerous appearances in comedy shows on Irish Television (including The Republic of Telly and the Podge and Rodge Show), Colum is a festival regular in Ireland and in many other parts of the world, including Edinburgh, Melbourne and Adelaide.
He has also appeared on The Paramount Comedy Channels 'The World Stands Up' show, – the prestigious invitation only stand up show showcasing the cream of stand up comedians from around the globe.
Colum finished a successful 2010 by supporting Scotland's newest comedy star Kevin Bridges on his UK and Ireland tour.
Go and see Colum now!…he will make you laugh..and you will laugh… laugh your little wet pants off… so bring a spare pair, you have been warned!
The one-way people recognise comedian Dave Callan is because of his beard and long hair. Many people want him to shave but it is his trademark. He thinks it will be very fashionable when the new Ice Age comes.
Dave Callan is easily the hairiest comedian in Australia. Dave Callan is a versatile and highly entertaining comedian, writer and performer. Dave has also been mistaken for Chewbacca, Jesus and The Wild Man from Borneo.
Dave Callan is best known from his years on Rove Live and hosting Saturday nights on Triple J.
Dave is the Irish born star of Triple J radio and original Rove cast member. He is also recognisable from his appearances on Spicks and Specks, The Comedy Festival Gala and The Adventures of the Good News Week. He is currently a regular on Good Game on ABC 2. He has performed at the Edinburgh Festival and toured Britain, South East Asia, the U.S. and Hobart.
Recently Dave has embraced his roots by lending his voice to animated series 'Mollusks' as Feargal the Irish Sea Cucumber and played the Electric Picnic, a three day music festival in Ireland.
Dave is currently performing 'The Psychology of Laughter', a brand-new live show about a 100 year-old book he found in Edinburgh of the same name. He has sweet guns.
His show was nominated for Best Comedy at the Adelaide Fringe 2013.
Comedian Daniel Kinno delivers insightful and raucous narratives on topics ranging from the menial tasks of daily life, to relationships, pop culture, history and his unusual Russian heritage with a truly unique perspective.
Daniel can be recognized from television where his stand up has been featured on NBC, MTV, The Game Show Network and The WB. 2002 Witnessed Daniel's acclaimed performance at the prestigious Just for Laughs Comedy Festival in Montreal, Canada as part of the New Faces showcase. The Hollywood Reporter described him as having "killed with a charming and smart act" that went to create the "biggest buzz" of the deal making festival. This led to Daniel performing on stages across America and the world. Kinno's brand of humor knows no bounds and recently he returned from Afghanistan where he headlined a USO tour entertaining US and International forces.
When he's not headlining his own shows, Daniel currently resides in Los Angeles where he works as a writer on television shows and feature films.