This event's been cancelled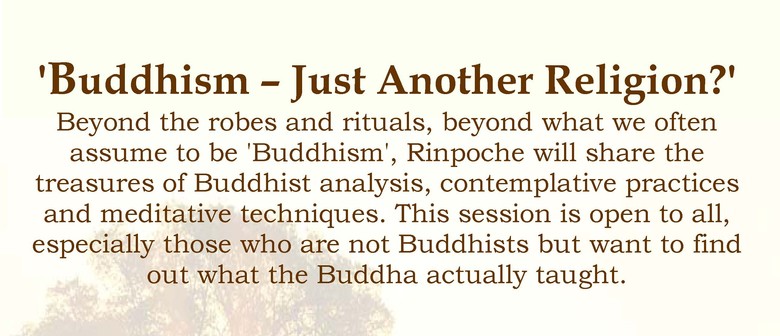 Is Buddha's teachings just another religion?
Is it relevant today?
Can we just apply 'mindfulness' science, 'present moment' philosophy or 'awareness' technique from Buddhism to gain success, happiness and meaning in modern life?
Beyond the robes and rituals which we often assume to be 'Buddhism', Venerable Chokyi Nyima Rinpoche will share the treasures of Buddhist thought, the tested paths of contemplation and the life's liberation through meditation.
This session is open to all, especially those who are not Buddhist but who are curious to know the essence of it.
Venerable Chokyi Nyima Rinpoche is the abbot of Ka-Nying Shedrub Ling Monastery, founder of Rangjung Yeshe Institute for Buddhist Studies, founder of Rangjung Yeshe Publications as well as founder of Dharmachakra Translation Group - a committee of expert translators dedicated to translating and publishing classical Buddhist treatises from Tibetan and Sanskrit scriptural canon. Rinpoche travels widely in Europe, Russia, Asia and the Americas instructing students in a variety of Buddhist contexts. Rinpoche has also been a frequent lecturer at many esteemed universities such as Harvard and Oxford University. Annually, Rinpoche also conducts a 10-day Fall Seminar on Buddhist teachings for international students with translations into English, German, French, Russian, Spanish, Portuguese, Chinese and a number of other languages.