Sorry, this event's been and gone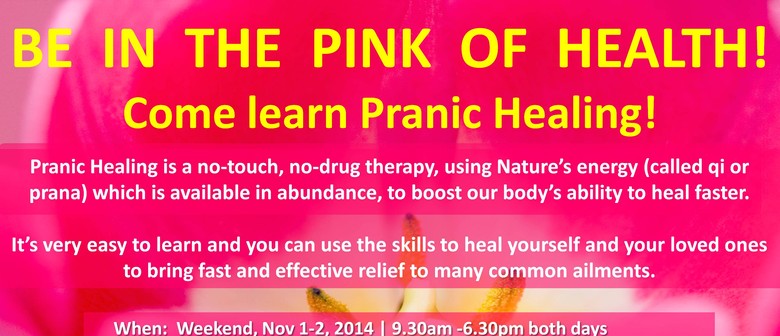 When:
Sat Nov 1 2014, 9:30am–6:30pm
Sun Nov 2 2014, 9:30am–6:30pm
Basic Pranic Healing Workshop synopsis:
In this very hands-on workshop, you will learn about your energy body - this is the 'invisible" energy field that surrounds and interpenetrates our physical body, as well as the function of the major energy centres called chakras (aka acupuncture points in Chinese).

You will learn about our aura and chakras, how to "scan," or feel the energy, to "sweep," or clean away congested/disease energy, and to "energize," or supplement affected areas and chakras with fresh energy to help speed up recovery. You will practise healing for common ailments, such as simple ailments like cuts and insect bites to stomach aches, menstrual cramps, as well as sinusitis, fever, cough, headache, neck/backaches. We will also cover techniques for relieving symptoms related to chronic ailments such as asthma, hypertension, high blood pressure, etc.

What's more, you get to practise different methods of pranic breathing, which can increase your energy level tremendously in mere minutes - a great way to recharge and de-stress yourself quickly, whether you are at work or at home.

During class, all the principles will be explained thoroughly and you will practice the techniques and be confident to start producing positive results once you complete the workshop.