Sorry, this event's been and gone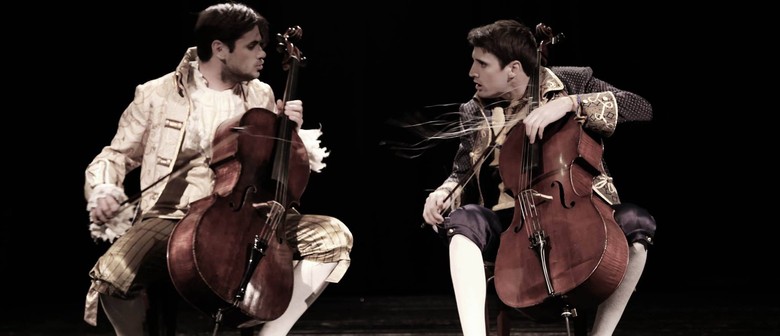 Get your cello on this May with a special performance of 2CELLOS live in Singapore! Their performance here is their only Southeast Asian stop to date and their second concert in Singapore.
Luka Sulic and Stjepan Hauser first rose to fame in 2011 through their own stylised rendition of Michael Jackson's "Smooth Criminal", which subsequently became a global viral sensation. This success then lead to a record deal with Sony Masterworks and a personal invite from Sir Elton John to join him on his worldwide tour. The tour proved to be a smashing success, making 2CELLOS a name to remember. They were also the first instrumental act to be featured on the hit television show, "Glee", performing "Smooth Criminal" to popular acclaim.
They released their debut album in 2011 and featured song that were easily adapted into covers that could be played only on two cellos. The album included covers of songs by musical greats such as U2, Guns N' Roses, Coldplay, Nirvana and Sting. The album hit the number one spot on the US Billboard Top Classical Albums chart and won two Porin awards in 2012. The album was praised by critics as "inventive with unique arrangements, that deserves to transcend their YouTube beginnings".
Their second album, "In2ition", featured many notable names such as Steve Vai, Elton John, Chinese superstar pianist Lang Lang, Naya Rivera, Sky Ferreira and more. The album was a solid follow-up to their debut eponymous album and impressed critics, creating a bigger following for the musical twosome.
Over the last few years, the duo have wowed audiences around the globe at shows, festivals and venues such as Madison Square Garden, the Queen's Diamond Jubilee Concert at Buckingham Palace, Arena Zagreb, The Ellen DeGeneres Show and the 2011 iTunes Festival. All 11 shows dates on their solo Japanese tour this March 2014 have sold out, which is a certain indicator that the musical twosome are here to stay. They will next be seen alongside Elton John's new movie, "Elton John: The Million Dollar Piano" in 40 different countries worldwide.