Sorry, this event's been and gone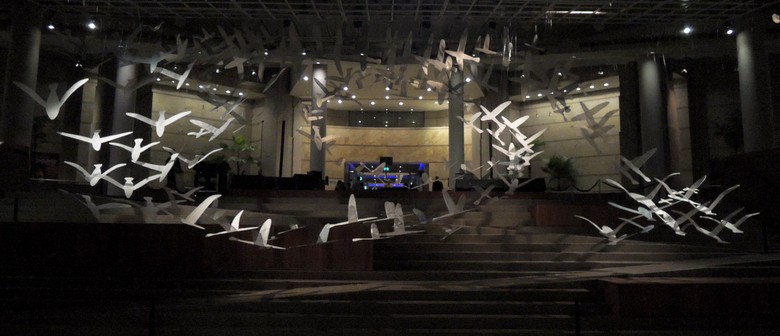 When:
Wed Mar 27 2013, 12:00am–11:55pm
Thu Mar 28 2013, 12:00am–11:55pm
Fri Mar 29 2013, 12:00am–11:55pm
Sat Mar 30 2013, 12:00am–11:55pm
Sun Mar 31 2013, 12:00am–11:55pm
Local artist Teo Huey Ling examines how singularity often merges to form a beneficial whole. The flock of birds flying over the concourse steps in a vortex-like pattern serves as a metaphor of spontaneously formed unity-in-motion. Sometimes one can feel the wind from their wings as they fly over. The rush of air that rises from these seemingly synchronised wing movements creates kinetic energy that fuels growth and new beginnings.
In nature, birds flock together in coherent motion to benefit as a group. These collaborative plays by a collective rule of consensus decision-making are a form of collective intelligence. The pattern of a vortex represents a metaphor of wholeness. The spiralling motion creates a chaotic turbulence yet transforming itself into a singular oneness where the action of spiralling continues in a never ending cycle.
A graduate of National Art School in Sydney, Teo's practice involves creating disparate materials from rice paper, felt making, porcelain ceramics and contemporary drawings. Her works embrace laborious and meticulous processes because she believes in the spirit and sensibility of working with hands.