Sorry, this event's been and gone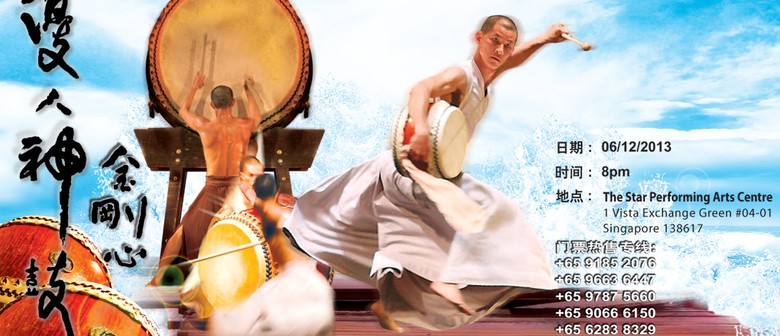 When:
Fri Dec 6 2013, 8:00pm
Sat Dec 7 2013, 8:00pm
Website:
1988年,在熱鬧繁華的臺北城另闢一方寧靜,優人神鼓在木柵老泉里一座原始山林中創立。創辦人劉若瑀師承波蘭劇場大師果托夫斯基在山林中訓練的方法,注重表演者身體有機狀態與內在覺知能力的開發。1993年邀請自幼習鼓的黃誌群擔任擊鼓指導,並以先學靜坐,再教擊鼓為原則,奠定了劇團的訓練及表演形式,也開啟了一系列以擊鼓為主軸的優人神鼓經典作品。
優人神鼓結合果托夫斯基身體訓練、東方傳統武術、擊鼓、靜坐、太極導引、神聖舞蹈等元素,廣闊運用音樂、戲劇、文學、舞蹈、祭儀等素材,實踐道藝合一、東西交融理念的獨特表演方式,不但具體呈現台灣優質的劇場表演藝術,具世界觀與當代美學之特點,並獲國際藝壇高度重視,不斷獲邀參加國際重要藝術節表演。
U-Theatre 優人神鼓 (http://www.utheatre.org.tw/) from Taipei will be performing "Meeting with Bodhisattva" in Singapore on 6 and 7 Dec 2013. It was first performed in 2002 at Taipei National Theatre, Meeting With Bodhisattva has been performed around the world, including engagements at the Hong Kong, Shanghai, the U.S., France and Belgium.
Meeting with Bodhisattva illustrates a warrior's path to self-actualization. Although fearful when faced with life's unknown, the warrior goes on to rid himself of all such worries and to search for wisdom. In doing so, he constantly elevates himself until he finally attains an inner stability and calm force. Because he wields a sword, the warrior sees his own cowardliness, but it's also because of the sword that he finds the courage to face life.