Sorry, this event's been and gone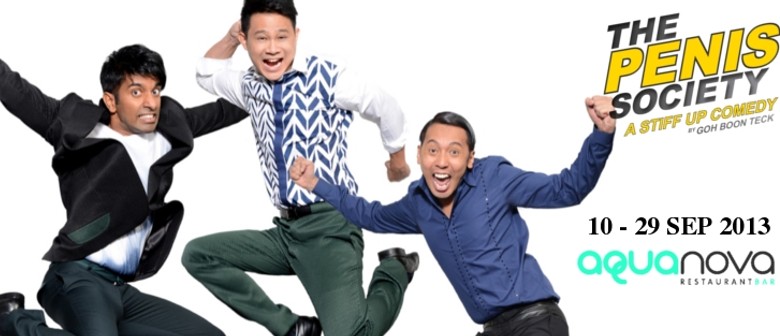 When:
Tue Sep 10 2013, 8:30pm–9:30pm
Where: Aquanova,

Block C #01-09 River Valley Road, Clarke Quay, Singapore
The Penis Society is a dramatized talk-show triple-logue theatre debating and enlightening on the current male culture in Singapore. The illustrious world of Singaporean men using their genitals to ruin their career and lives is presented in this drop dead funny and wicked satire. Featuring 3 gentlemen with razor sharp tongues and toxic-acidic wits, the drama confronts the reality of desire and fragility of one's mind. An original new work by Singaporean playwright, Goh Boon Teck.
Our society is created by this male organ of copulation
Our society is erected on this phallic symbol
Our society is screwed by Penises, literally
Men in Shirts craft huge national ambitions.
Men in Suits speak of visions in assembly halls.
Men in Robes fight law and justice.
And yet they are discontented with their one domestic wife
And yet they indulge in shameful desires in no-frills hotels
And yet they fail in righteousness between the shadow of thighs
Penetrate a civilization where Men have stripped themselves of all moral codes.
A play where private parts become public entertainment
Come talk cock!
Playwright – Goh Boon Teck
Director – Patricia Toh
Producer – Justin Wong
Assistant Producer – Larry Pham
Lighting Designer – Gabriel Chan
Sound Designer cum Operator - Sandra Tay
Wardrobe Sponsor – Coupe Cousu
Make Up Designer – Beno Lim (M.A.C Cosmetics)
Photographer - Lionel Lai (ACEPIX)
Graphic Designer – Zachary Goh
Production cum Stage Manager – Tan Shi Yun
Production Crew – George Lim
Starring: Wilson Xin, Prem John and Ryd Saleh