Sorry, this event's been and gone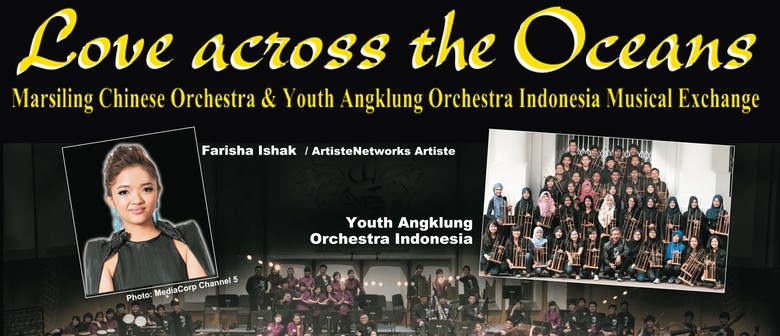 Love Across The Oceans'' is a musical exchange between Marsiling Chinese Orchestra (MCO) and Youth Angklung Orchestra Indonesia.
The performance is part of a bilateral exchange programme to create an opportunity for the MCO to have an overseas exposure. In September 2013, MCO has travelled to Bandung for the Joint Performances at the Gedung Merdeka (Indonesian Independence Hall) and Jakarta, performing live at the Indonesian National TV Station, TVRI. In return, the Youth Angklung Orchestra Indonesia will be joining MCO for this concert.
Through the exchange, the youths learnt about the culture and music of Indonesia. The joint performances have also helped foster friendship among the youth performers from the two countries. We believe it has also strengthened the people-to-people relationship between Singapore and Indonesia.
MCO was set up in June 2004 and was inaugurated in August 2004. It has achieved accolades in the 21st century International Arts Festival held at Genting Highlands in 2007 by clinching its very first two International Gold Awards, in both the Chinese Orchestra and Ensemble group adjudications. MCO has actively performed on many occasions for the community in the heartlands including the Chinese New Year party held at the Istana. It was also part of the 1331 member strong ukulele group in the Chingay Parade 2013.