Sorry, this event's been and gone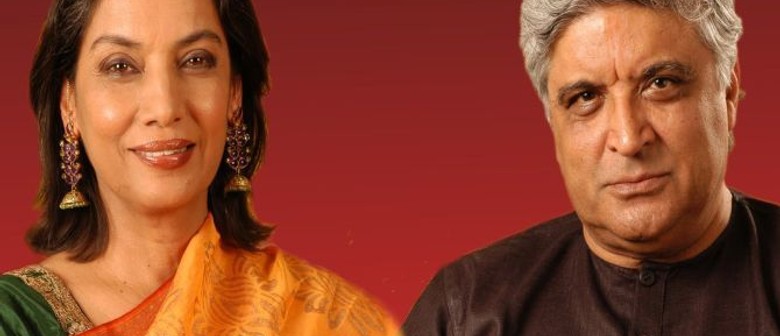 Kaifi Aur Main is a celebration of renowned Urdu poet and film lyricist Kaifi Azmi's life and works seen through the eyes of his wife, noted theatre and film actress, Shaukat Kaifi, brought to life by his daughter Shabana Azmi and son-in-law Javed Akhtar.
Kaifi Aur Main is a theatrical collage based on the reminiscences of Kaifi and Shaukat. Scripted by Javed Akhtar, the narrative traces Kaifi and Shaukat's journey of life from his childhood in Mijwan…their unusual romance culminating in a marriage that lasted 55 years… life in Bombay in the 50s...the Progressive Writer's Movement… Kaifi's social and cultural activism...his path-breaking work as a lyricist in Hindi cinema... his fight against life-threatening illness...and their relentless fight to make Mijwan a place of progress... Kaifi Aur Main is also a celebration of Kaifi Azmi's poetry and his unparalleled contribution to Indian Cinema.
Kaifi Azmi's recollections are brought to life by Javed Akhtar and are interwoven by Shabana Azmi with the memories of her mother Shaukat Kaifi, whose impressions make the narrative 'a heart-warming account that rises above the personal to document the politics of an era in a distinctly female voice'. The narrative is interspersed with renditions of Kaifi's poems and songs by the young singer Jaswinder Singh and supported by a live orchestra.
The unique form of this production has won over audiences not just across borders but also across different classes and age-groups. At one level it is a heart-warming love story between two individuals from very different backgrounds. On the other hand it is the journey of a poet whose work has inspired generations of Indians. Music, poetry, drama, romance, humour, pathos and triumph of the human spirit make it universally appealing to the music connoisseur as well as the theatre enthusiast.
Shabana Azmi and Javed Akhtar, seen together for the first time on stage in this show, have charmed audiences and left them craving for more. Critical acclaim and appreciation has come from artists, writers, directors, connoisseurs, journalists and the audience at large.
Make a date with us for this premier event for the exclusive and sophisticated South-Asian community at the newest concert arena boasting state-of-the art acoustics.