Sorry, this event's been and gone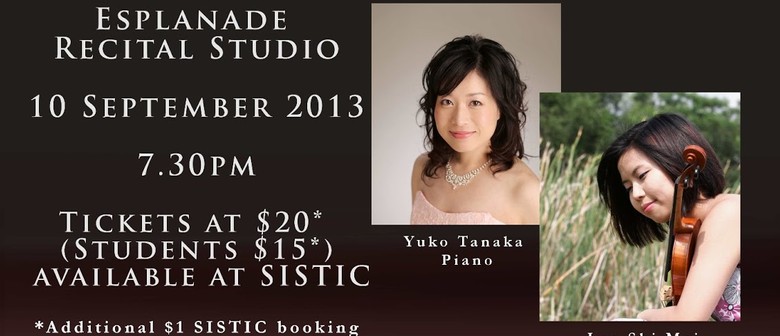 Come join us for a September break getaway. Be a yogi, time-travelling surfer and explorer, all in one night.
Immerse yourself in the crystalline sounds of Arvo Pärt's Spiegel im Spiegel (Mirror in Mirror) and let the music take your worries away.
Jump on the time-travelling surfboard as we ride back in time to Richard Strauss' youthful years in this super romantic Violin Sonata in E-flat written about the girl of his dreams.
Take a stroll in the mysterious and magical maze of Toru Takemitsu's Distance de Fée, music set to a Japanese poem of the same name.
Be in two places at once, or just be in one place (at our performance!) - Kailin Yong's Dondang Sayang and Feng Shou take us home to local Peranakan and Chinese traditions, though at the same time, you will find yourself straddling the worlds of Spanish Flamenco, Balkan, and Middle Eastern elements. Seatbelts on!
Your tour guides in this sonic adventure are Singaporean violinist Lee Shi Mei and international award-winning pianist Yuko Tanaka.