Sorry, this event's been and gone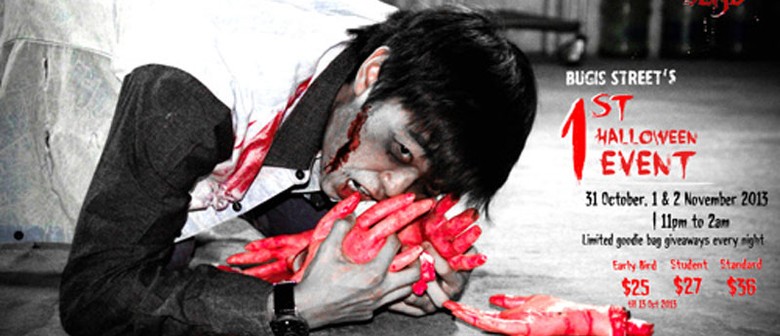 When:
Thu Oct 31 2013, 11:00pm–2:00am
Fri Nov 1 2013, 11:00pm–2:00am
Sat Nov 2 2013, 11:00pm–2:00am
Bugis Street presents our very 1st Halloween Event - Night of the Living Dead.
This Halloween, we dare you to join us at Bugis Street after the crowd disperses, when all the shops close for the day, and when the lights go out, for a brand new, and very real spook experience. There have been numerous sightings and paranormal encounters within the complex to frighten even the bravest of hearts. Rumour has it that Bugis Street remains bustling throughout the night with crowds that are visible only to some eyes. This year, we will transform Level 2 into a haunted labyrinth where you will be forced to walk through really scary and hair raising lanes with only a small torch light in hand.
Be prepared to brave through three haunted routes with more than ten terrifying scare zones specially crafted to send chills down your spine. Pack your night with fear as you join the ethereal friends attending the Prom Night gone wrong, experience a walk with spirits of aged and frail grandmothers lingering by your side selling packets of tissues in Asian Horrors, and meet the tortured and disfigured victims of the Burnt Dynasty - a brutal fire massacre.