Sorry, this event's been and gone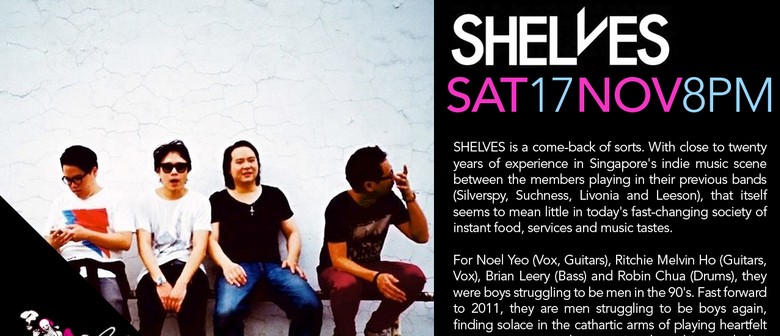 When:
Sat Nov 17 2012, 8:00pm–9:00pm
Websites:
About Shelves
Shelves is a come-back of sorts. With close to twenty years of experience in Singapore's indie music scene between the members playing in their previous bands (Silverspy, Suchness, Livonia and Leeson), that itself seems to mean little in today's fast-changing society of instant food, services and music tastes.
For Noel Yeo (Vox, Guitars), Ritchie Melvin Ho (Guitars, Vox), Brian Leery (Bass) and Robin Chua (Drums), they were boys struggling to be men in the 90's. Fast forward to 2011, they are men struggling to be boys again, finding solace in the cathartic arms of playing heartfelt power pop songs that promise the aching melodies reminiscent of Teenage Fanclub, delivered with the urgency of Weezer and insouciance of Pavement.
.......................................................................................................................
About Hood Saturday Original Sessions
The return of the Saturdays Originals Session will see a plethora of undiscovered gems in the local indie scene as they belt out their original tunes and compositions for an hour at the outlet.
Hood Bar and Café has long been recognised as the ideal venue for local music, as evidenced in their décor, which reflected a rather quirky atmosphere – seen also in their Facebook photo albums. With a wall mural that showcases a mix of Western and Eastern icons, while also throwing in characters and peculiar-looking creatures that can only be inspired by local artists, the scene in Hood can be described as truly electrifying. Through the aid of JBL's local distributor, Mahajak SKM Electronics, the cosy bar was transformed into a music hall with full-scaled concert-ready system.
It is Hood Bar and Café's long-term aim to raise awareness of local talents who with original music and content, and also allow the world a chance to see, hear and experience the original works of Singapore's original bands. Hood believes the journey for the unearthing of Singapore has just begun.