Sorry, this event's been and gone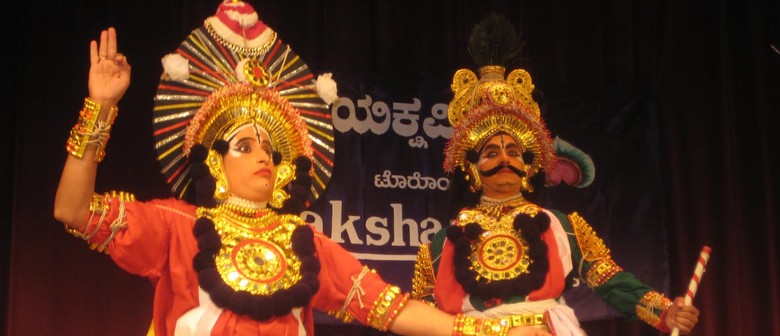 When:
Fri Nov 30 2012, 7:30pm
Fri Nov 30 2012, 8:45pm
Fri Nov 30 2012, 10:00pm
Sat Dec 1 2012, 7:30pm
Sat Dec 1 2012, 8:45pm
Sat Dec 1 2012, 10:00pm
Sun Dec 2 2012, 7:30pm
Sun Dec 2 2012, 8:45pm
Yakshagana is a traditional dance drama of Karnataka, usually performed in open-air theatres in paddy fields throughout the night. In recent times, they are staged in indoor auditoriums and the performing troupe, called Mela or Mandali, traditionally travels from village to village.
Established in 1934 by Late Sri Keremane Shivarama Hegde, Yakshagana dance troupe Sri Idagunji Mahaganapathi Yakshagana Mandali Keremane's repertoire consists mainly of episodes from Indian mythology. The troupe endeavours to maintain purity in tradition and perfection in its performances without affecting the traditional heritage of this theatre even whilst introducing experimentation and innovation. The troupe has performed more than 7000 shows, touring not only India but also extensively in USA, England, Spain, Bahrain, France, China, Nepal etc.
For Kalaa Utsavam 2012, they will perform episodes of the Ramayana. Panchavati, where Sita gets abducted by the demon king, Ravana and Vaali Moksha, where monkey king Vaali surrenders at Rama's feet upon realising his unlawful acts.