Sorry, this event's been and gone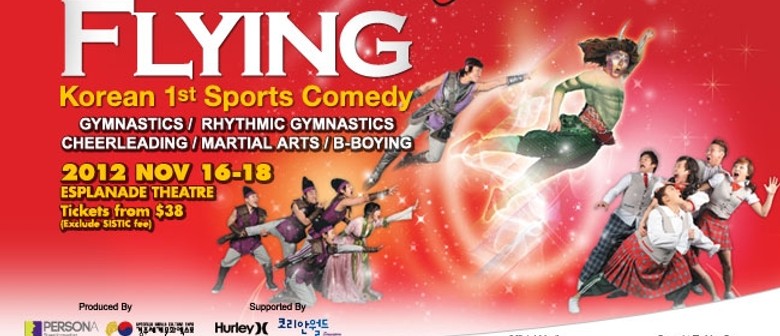 When:
Fri Nov 16 2012, 8:00pm
Sat Nov 17 2012, 3:00pm
Sat Nov 17 2012, 8:00pm
Sun Nov 18 2012, 3:00pm
From the creators of Jump, Breakout and BIBAP comes FLYing - the latest Korean non-verbal action comedy is set to give you a taste of its own unique flying experience this November. FLYing is Head Director Choi Chul Gi's latest production that combines the very best of gymnastics, cheerleading, martial arts and B-boying in one sensational 80-minute performance.
Boasting a strong cast that includes Korean National Gymnasts, FLYing is also the first-ever non-verbal show that weaves in a unique sporty element – cheerleading and gymnastics – into its act that effectively sets it apart from other non-verbal performances. At the same time, knowing Choi, who loves a comic touch amid all the action, this show is guaranteed to be super fun for audiences of all ages.
The story begins in the year of 609 during the Silla Dynasty. A demon appears in Hwarang martial art contest causing much chaos. One of the Hwarang warriors tries to conquer him and both of them stumble unexpectedly into the present through a time tunnel… The warrior and demon fall through the time tunnel into the Silla High School of today, and disrupted a group of students who are training for the National Cheerleading Contest. The warrior and the students then join forces to try to capture the demon…